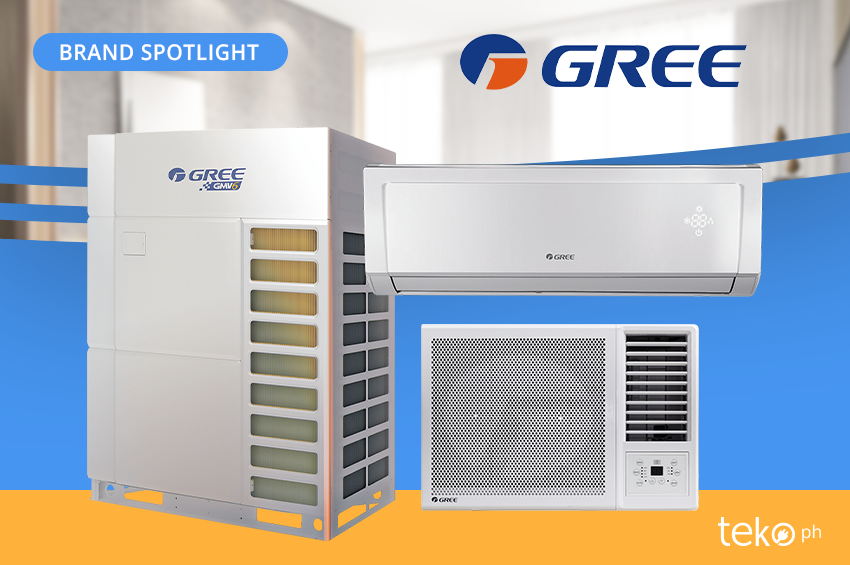 Have you ever considered buying an aircon from Gree, now a growing appliance brand in the Philippines? We're Teko.ph, the largest aircon and appliance services provider in the Philippines, and we're here to give you a quick background on this Chinese brand.
History of Gree
Gree Electric Appliances, founded in 1991, has grown to become one of the most renowned equipment companies in China and around the world. Initially, the company relied mainly on the assembly and sale of domestic air conditioners. Then, they evolved into a diverse and technology-oriented industrial company, covering the two significant fields of household consumer goods and industrial equipment. Their items are sold to more than 160 countries and regions.
The corporation employs over 90,000 people and operates 14 manufacturing facilities in China and other countries. Gree also has six renewable resource bases, spanning the entire industrial chain from upstream production to downstream recycling, enabling green, circular, and sustainable development.
Gree is one of those companies that focus on the science of producing and designing products. They have 96 research institutes, 929 laboratories, and one academician workstation. Despite its success and accolades, the organization takes pleasure in its capacity to remain innovative. R&D spending surpassed a billion dollars in 2018 alone. They also have 72,600 domestic patent applications, which is nothing short of astounding. Moreover, they ranked sixth in China and first in the home appliance industry in the 2019 State Intellectual Property Office Ranking.
This brand is also rightfully proud of its 30 "world-leading" technologies, two state Science and Technology Progress Awards, two state Technological Invention Awards, and four Chinese Patent Prizes. According to the Economic and Social Council of Japan, Gree accounted for 20.6 percent of the global market for household air conditioners in 2018.
Certainly, this company consistently prioritizes quality. They adhere to the goal of managing with integrity, being customer-oriented, and laser-focused on quality source control. As a result, their innovative items continue to be the technological innovators in the worldwide HVAC sector.
Gree Aircon
When it comes to aircon, Gree focuses on preliminary assembly sales to mastering several "world-leading" core technologies.
They began the quest to independently develop the fundamental technologies of air conditioners in the early twentieth century. They had the goal to improve manufacturing workmanship and quality management of high-quality air conditioners. So, in 2002, it established successive R&D manufacturing bases for compressors and motors, and the self-owned compressor brand "Landa."
In addition, Gree's independently developed triple-cylinder two-stage rotary compressor has gained "global leading" status. Its extensive operating range enables turbo heating at extremely low temperatures. Even if the outside temperature is -35°C, the internal temperature can be kept at 25°C.
Also, their air conditioning products are incredibly sturdy and long-lasting, thanks to their flawless technology. Today, they provide a diverse range of household and commercial air conditioners.
Why Buy Gree?
They make reliable aircons.
They place a strong emphasis on research and development.
The brand has thousands of patents to its name.
Gree has more than 30 years of experience in the industry.
They put renewable resource initiatives on top of their priorities.
For more information about Gree Electric Appliances, you may visit https://greephilippines.com.ph/.
Gree Service Centers
Aldaya Refrigeration and Air Conditioning
Las Pinas
Racool Aircon Repair and Installation Services
Makati City
Jaybm Enterprise
Quezon City
D-Tech Trading
Batangas
A'Recebido Electronics
Sorsogon City
Negative Zero Air Conditioning
Cavite City
Rhemarie Refrigeration and Aircon
Hagonoy, Bulacan
Ped's Air Conditioning
Calasiao, Pangasinan
Herbie Refrigeration and Air Conditioning
Antique
Berns Engineering
Bacolod City
HPB Air Conditioning
Iloilo City
E-Rac Appliance Service Center
Bogo City, Cebu
Fresca Air Conditioning Parts and Services
Roxas City
RG Cuenca
Cagayan De Oro
Safety Electronics and Aircon
Cotabato City
Caresystem Technology Solution Co.
Davao City