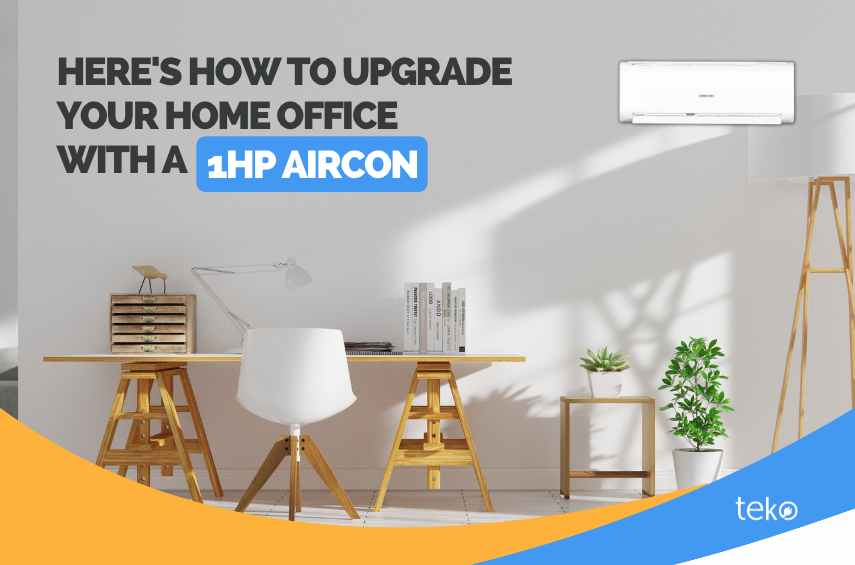 Are you among the lucky ones who have been working from home for the past few months or years? This setup is here to stay, that's why you have to ensure your home office is comfortable enough! As the largest aircon and appliance services provider in the Philippines, we, Teko.ph, are here with some tips to make your home office cooler and cozier—specifically with a 1HP aircon.
How A 1HP Aircon Upgrades A Home Office
You would be staying in that space for eight hours (or more) per day! So, might as well give it some real office vibes so you can focus more on your tasks. An easy way to do it is by using an AC that can cool your room efficiently.
If you own an inverter aircon, it's an energy-efficient option to cool your home office. It can easily regulate the cooling or heating output depending on your room's temperature. The compressor does not need to turn on and off as frequently, so it's also quieter compared to a non-inverter type. No more background noise and distractions while working!
Overall, you'll feel more comfortable with the right temperature while working.
Check If 1HP Aircon is Enough
Before you achieve these benefits, be sure that a 1HP aircon fits your room! This aircon is best used in a 15 to 21-sqm room. We highly recommend you seek the expert advice of a certified aircon technician to help determine the right air conditioning recommendation.
If you need to replace your old AC or you're buying for the first time, here's a list of the best aircon brands in the Philippines you can choose from.
Tips for a Cozier Home Office
Thanks to your 1HP aircon, you're cool and comfy all day! But we've got some more tips to make working even cozier and more convenient for you:
Clean the aircon filter every 1 to 3 months to remove dust and dirt buildup.
Book an aircon cleaning service every 3 to 4 months.
Keep windows and doors closed to prevent cool air from escaping and warm air from entering.
Use a ceiling or stand fan to help circulate the cool air.
Use LED lights instead of incandescent bulbs to illuminate your workspace.