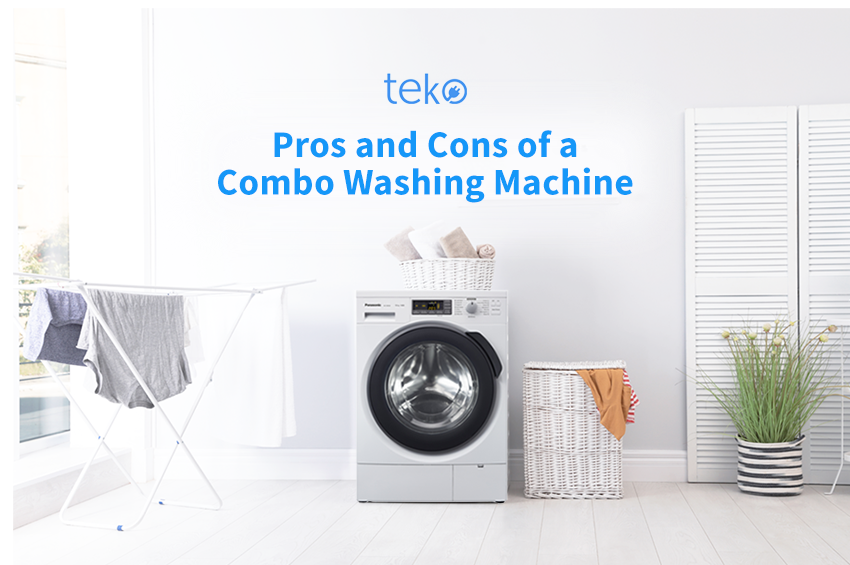 Are you still undecided between buying a combo washing machine or two separate units? We're Teko.ph, the largest aircon and appliance services provider in the Philippines, and we've got some insights to help you decide better!
Washing machines with dryers, commonly known as "combo washing machines," are considered top-of-the-line appliances of many brands. If you were to strip away all the fancy features, you would find that this combines a washing machine and clothes dryer into one appliance. The best part? It will take up half the space for two separate machines.
Before you purchase a combo washing machine, it is crucial that you are aware of all the pros and cons of owning one.
Pros and Cons of A Washing Machine With Dryer
Pros:
It takes up less space compared to conventional washing machines.
Washing performance is equivalent to a stand-alone washing machine.
It consumes less energy and water compared to using two separate appliances.
You can wash and dry without the stress of manually draining the water or taking out the clothes for drying in a separate tub.
You can use it anytime as you would with a standard washing machine, knowing that you can use the dryer for emergency purposes.
Costs are usually the same if you were to use two separate tubs.
Cons:
It can take a lot of time to finish before you can add another load to it. Even then, it can only dry half the clothes properly that it has finished washing. And, if you are doing multiple rounds of laundry, it will take more time than it would if you were using a stand-alone washer and dryer at the same time.
High levels of water consumption.
It can be costly and complicated to use.
Should I Get A Washing Machine With A Dryer?
Washing machines with dryers are the perfect home appliance if you have limited space or have a small family. They are compact and provide you with more flexibility than their counterparts.
However, if you have a large family and require multiple rounds of washing and drying, stand-alone washers and dryers would suit you best. Using them will give you better washing and drying performance. Plus, you can wash your second load of clothes while the first load dries in the dryer tub.
If you're looking to lower your water consumption, you can try researching combo washing machines that are eco-friendly. Moreover, if on a budget, a semi-automatic or fully automatic washing machine can save you more money.
Conclusion
It's likely that the best decision will depend on both your household's specific needs and financial circumstances. You can use this guide to make an informed decision about purchasing a combo set for your home.
If you need more information on washing machines: types of washing machines, where to buy, and how to use them, check out our Ultimate Guide here!