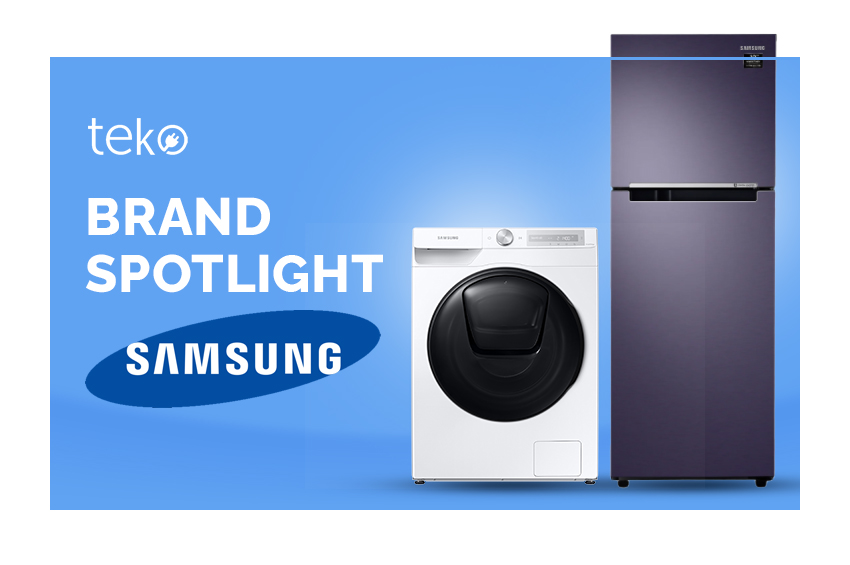 Samsung is one of those brands that everyone recognizes. You see it almost everywhere! When it comes to electronics, they make almost literally everything—from cutting-edge smartphones to breathtaking home media devices to innovative household appliances like refrigerators and air conditioners. We're Teko.ph, the largest aircon and appliance services provider in the Philippines, here to give you a look into this South Korean electronics manufacturer.
History of Samsung
Lee Byung-Chull began the firm on March 1, 1938, as a food trade store. He started his company in Taegu, Korea, selling noodles and other local products and shipping them to China and its regions. The name Samsung is derived from the Korean word for "three stars." Following the Korean War, Lee extended his firm into textiles, becoming Korea's largest woolen plant. He placed a strong emphasis on industry to aid his country's postwar recovery.
To better compete in the textile market, the company extended its textile-manufacturing methods in the 1970s to span the entire production line—from raw materials to finished goods. Samsung Heavy Industries, Samsung Shipbuilding, and Samsung Precision Company formed new subsidiaries. During the same period, the firm began to invest in the heavy, chemical, and petrochemical sectors, indicating a prospective development route for the company.
Samsung originally joined the electronics market in 1969, with multiple departments dedicated to electronics. Black-and-white televisions were their debut offerings. The firm began exporting home electronics items to other countries in the 1970s. The company was already a significant manufacturer in Korea at the time, and it had purchased a 50% share in a business called Korea Semiconductor.
Samsung boasts that it is constantly reinventing the future and going into the unknown in search of innovations that will assist people worldwide in living better, healthier lives.
Samsung Refrigerators
Samsung refrigerators are some of the most well-designed and reliable refrigerators on the market. With advanced features such as digital temperature control, auto-defrost settings, and adjustable shelves, Samsung refrigerators offer a wide range of options to meet any cooking or storage needs. Additionally, many models come with energy-efficient designs that help you save money while keeping your food fresh. Whether you're looking for a top-of-the-line model or an economical refrigerator for everyday use, Samsung has something to fit every lifestyle and budget.
Samsung Washing Machines
Samsung washing machines offer a range of features designed to make laundry day easier and more efficient. They come with a number of features that make washing clothing simple, quick, and energy-efficient. From large capacity washers with steam cycle technology, to lower energy consumption models for eco-friendly households, Samsung has a wide selection of innovative products that are sure to meet any laundry needs. With advanced settings such as automatic temperature control and adjustable spin speeds, Samsung washing machines help you get the job done quickly and easily while also protecting your clothes from wear and tear.
Whether you're looking for an affordable option or one packed with all the latest features, Samsung has something perfect for bedroom owners everywhere. Some modern units are even compatible with Alexa or Google Assistant, allowing you to operate the appliance from a distance.
Why Buy Samsung?
When it comes to technology and design, Samsung refrigerators are the most advanced.
Samsung seems to be always pushing the bounds of what smart appliances can be.
With a worldwide presence and numerous service centers, you'll be at peace with choosing Samsung.
Samsung washers come with a number of features that make washing clothing simple, quick, and energy-efficient.
Samsung Service Centers
Samsung Service Center
4th Floor Cyberzone Annex Building SM City North, Epifanio de los Santos Avenue, Quezon City
Samsung Service Center
Atrium of Makati, Unit 305 The, Building Makati Ave, Makati, 1224 Metro Manila
Chronicles Works And Services Incorporated
2424 Tejeron St. Brgy. 874 Zone 96 Dist. 6 Sta Ana Manila
K Servicio Trade
111 12TH Avenue Socorro, Quezon City
Chronicles Electronics Corp.
Almanza Square Bldg. 490 Alabang Zapote Road Cor. BF Homes Almanza Las Pinas City
Samsung Service Center – SM Mall of Asia North Wing
U-210, 2nd Floor, North Parking, SM Mall of Asia, Pacific Drive, Pasay City
Raycon Airconditioning & Refrigeration Services
Unit 3 Showcase Capital Center Marcos Highway, Cainta, Rizal
ABL Electronics Service Center
92 Aquipel Bldg. T. Alonzo Street Baguio City
Samsung Service Center
Ayala Mall Cebu, 6000 Archbishop Reyes Ave, Cebu City
Fischmarkt
1 Salinas Dr, Cebu City
Samsung Experience Store
3rd Floor SM City Lanang, J.P. Laurel Ave, Agdao, Davao City
Samsung Service Center
Unit A3, Bormaheco, Inc. JP Laurel Avenue, Davao City