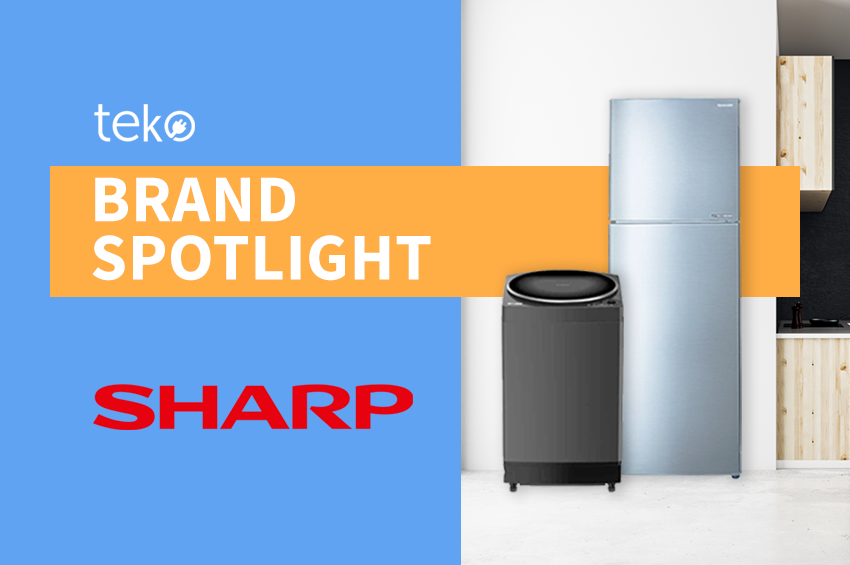 Sharp appliances are designed to provide convenience and efficiency for any home. From refrigerators to microwaves, Sharp makes a variety of products that are both stylish and functional. But are you undecided about considering this brand for your next appliance purchase? We're Teko.ph, the largest aircon and appliance services provider in the Philippines, here to give you an overview of the brand and its products.
History of Sharp
Sharp has a very rich history that began in 1912. Founded by Tokuji Hayakawa in Tokyo, Japan, the company started as a metal workshop where it invented a snap buckle called Tokubijo. In 1915, the company name Sharp Corporation became official when they invented the Ever-Sharp mechanical pencil.
In 1925, Sharp designed the first generation of Japanese radio sets when they relocated from Tokyo to Osaka. The company name changed from Sharp to Hayakawa Electric in 1953 when they started producing Japan's very own TV sets. Then followed by the world's first transistor calculator in 1964.
Back to its company name, Sharp Corporation, it introduced the first microwave oven in 1970. In the 80s, the company expanded into high-end audio advanced components. After decades, the company immersed itself in LCD TV set production and introduced the first commercial camera phone.
Unbeknownst to many, Sharp's Mobile Communications Division developed the world's first-ever commercial camera phone, the J-SH04, in Japan in 2000. Sharp has made significant investments in LCD panel manufacturing units since then.
In the Philippines, however, this massive conglomerate is best known for manufacturing more practical appliances such as air conditioners, refrigerators, and washing machines.
Sharp Washing Machines
Sharp is well known for producing reliable washing machines. Their units are generally considered to be in the sweet spot between price and performance.
The front-load washing machines from SHARP have a modern, sleek design with a variety of attractive color options. Some of these machines are also equipped with a knobless control panel for ease of use and an elegant appearance.
Furthermore, people generally associate minimalist and clean design with elegance. This is how SHARP's front-load washing machine meets your aesthetic requirements, giving your home a classy appeal.
In addition, Sharp front-load washers offer a range of guided washing programs to meet your unique laundry demands. You may choose your wash cycles depending on different fabric kinds on the vast display panel, which has a lot of customizable settings.
All of Sharp washing machine models have exceptional washing performance, ensuring that your laundry is thoroughly cleaned at the push of a button.
These models also offer a steam function that cleans fabric more completely by combining steam and water. Steam can help to eliminate wrinkles and improve the efficiency of detergent.
Sharp exclusive Plasmacluster technology discharges Plasmacluster ions that can actively eliminate bacteria and odor. This one-of-a-kind feature is impressive in a way that it may be used without getting your clothes wet. This way, you can enjoy clean, sanitary laundry that offers you peace of mind in the new normal.
The J-Tech Inverter technology from Sharp will help you save money on power. Every movement produced by their exclusive inverter technology ensures smooth operation and reduced noise without sacrificing energy efficiency.
Sharp Aircon
Sharp is well-known around the world for producing high-quality air conditioners that last for many years. It is, in fact, one of the most highly-rated air conditioners on the market. Most of the models in this product line are energy-efficient, silent, and packed with a slew of innovative features. It is somewhat more expensive than other brands, but many users say it's well worth the money.
Their split-type inverter air conditioners offer a variety of features and advantages. Most of these units have a 1.5 HP motor and can quickly chill a room up to 27 square meters. This makes them ideal for tropical climates, as they can cool a space more quickly and efficiently than other models.
You can expect significant savings on your electricity bill because of their innovative use of inverter technology. Furthermore, Sharp air conditioners offer 12-hour on and off timers, making it easier to keep your home cooler throughout the day while being careful of that electric bill.
Overall, Sharp air conditioning provides excellent savings and long-term energy efficiency at an affordable price. In fact, you'll get better performance with all of the available settings and energy-saving features than with many other models in the same price range.
Why Buy Sharp?
Sharp is well-known around the world for producing high-quality air conditioners that last for many years.
Their washing machine line comes with so many useful features that are hard to ignore.
This company is one of the most recognizable brands in the appliance industry.
They have been around for more than 100 years now.
Their units are considered to be in the sweet spot between price and performance.
Sharp Service Centers
Sharp Service Center
Dona Apolonia Bldg, 33 Kamias Rd, Pinahan, Quezon City
Sharp Service Center
Dona Apolonia Bldg, 33 Kamias Rd, Pinahan, Quezon City
Sharp Service Center
Arsenio H. Lacson Avenue, Sampaloc, Metro Manila
Sharp Service Center
164 Kamias Rd, Diliman, Quezon City
Sharp
28CF+PX5, Binmaley-Dagupan Regional Highway 20, Dagupan, Pangasinan
RGC Appliance Service Center
366 Magsaysay Ave, Baguio
Sharp Service Center
Combe Building, Maharlika Highway Corner Mahogany Street, Sumacab Este, Cabanatuan City
Sharp Philippines Corporation
Downtown District, Dagupan, Pangasinan
Sharp Philippines Corporation
552 M. J. Cuenco Ave, Cebu City
Sharp Philippines Corporation
GMC Plaza Bldg, Cebu City
Sharp Service Center
Cervantes St, Dumaguete, Negros Oriental
Sharp Service Center
44 P. Sobrecarey St, Bo. Obrero, Davao City