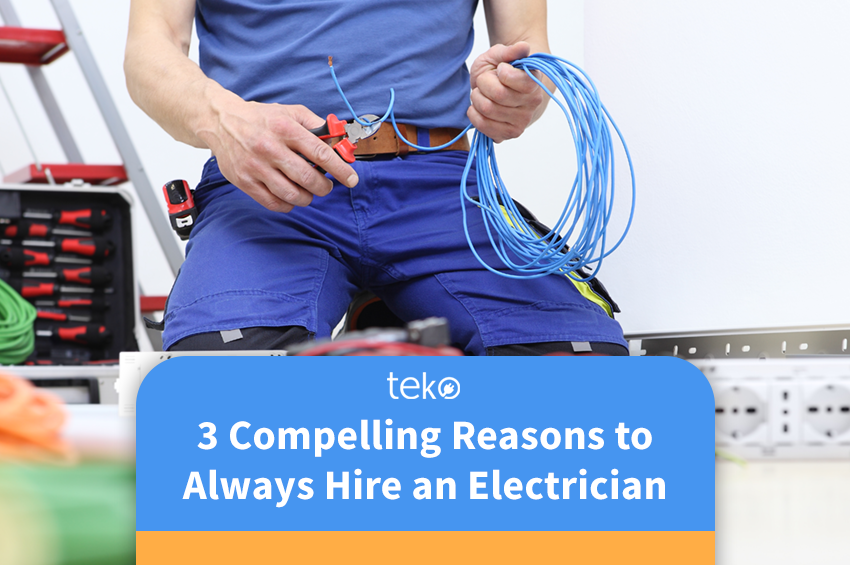 DIY electrical repair is tempting for homeowners, especially now that YouTube tutorials are available with a few taps on our phones. However, it is important to remember the risks and hazards before attempting such projects. 
We're

Teko.ph

, the largest aircon and appliance services provider in the Philippines, and we're here to give you three practical reasons why you should entrust your electrical services to a professional:
1. An electrician knows more than DIY videos
A licensed electrician is trained and certified to safely install electrical systems. They do things according to the latest building codes and safety standards. 
To become a master electrician in the Philippines, you must complete at least three years of a five-year Bachelor of Science in Electrical Engineering (BSEE) program. This is how much time you need to fully understand the processes and technicalities. Tutorials may not be as simple as they look! Do not be fooled into thinking that you can get the same level of expertise just by watching.
2. A professional will save your time
We know all too well how busy and hectic life can be. If you feel like you can't prioritize an electrical issue, don't start it at all. Attempting to rush through this concern may lead to more electric issues. Contact a licensed professional from Teko instead! You can easily book online anytime and have a technician check your lines. Save yourself from unnecessary trouble and wasted time down the line.
3. It's a cost-effective option
If you think that doing the task yourself is cheaper, hiring an electrician ensures a job will be done right from the start! Also, you won't need to buy tools you don't own. No need to go back and forth to stores returning faulty products. No need to worry about paying for damages caused unintentionally during repairs. 
It may be easy to look for answers online, but doing an electrical repair on your own comes with costly risks. For instance, if it results in a house fire, your insurance company may deny to financially compensate you. This goes true especially if they find out that somebody else performed the task without a license or that you did it yourself. Taking on DIY electrician duties just isn't worth it!
Contact Teko Right Away!
Electricians prioritize safety and they undergo continuous training and education to remain proficient in their craft. Hiring a professional saves you time and money, and it's far safer than attempting the job yourself. By doing so, you can avoid overloaded circuits, improper connections, overheating issues, sparks, and even fires. Skip the DIYs and leave the job up to the pros!
And talking about pros, look no further than Teko! Our qualified and licensed electricians specialize in both residential and commercial services. You can quickly book anytime, anywhere via https://teko.ph.