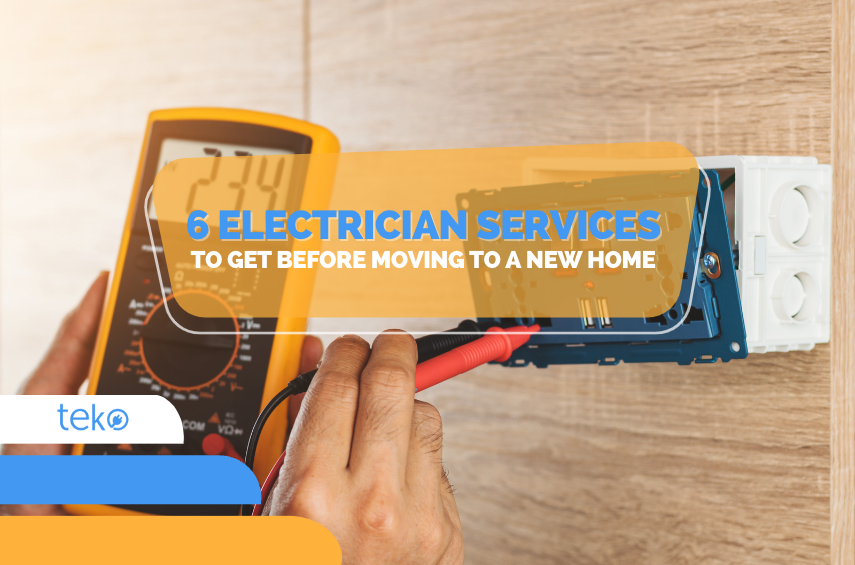 Are you reading this because you're finally moving to a new home? First off, congratulations! It can be exciting yet overwhelming. You'll want to make sure that everything runs smoothly and safely. That's why we're here, Teko.ph, the largest aircon and appliance services provider in the Philippines, with a guide to 6 electrician services you should get before settling in:
List of Electrician Services to Consider
Electrical Safety Inspection
Before moving in, it's important to hire a certified electrician to inspect your new home's electrical system. The inspection should include checking the electrical wiring, sockets, switches, light fixtures, and breaker panel to avoid electrical risks or hazards.
Electrical Wiring Repair
If the home or apartment is old, it's crucial to replace or upgrade it to ensure safety and reliability. Old wirings can increase the risk of electrical fires and may not be able to handle the load of modern electrical appliances.
Circuit Breaker Panel Upgrade
A circuit breaker panel upgrade is necessary if the panel is old or overloaded. Let the electrician examine it to ensure it's in good condition and properly labeled. They will verify if the panel is the correct size for the home's electrical load and check for any signs of damage or corrosion.
Electrical Outlet Inspection & Installation
Since you'll be using them most of the time, it's important to inspect all electrical outlets. Ensure your appliances' plugs are compatible with your new home's electrical outlets. Let the electrician check for loose or damaged outlets, improperly grounded outlets, and any signs of overheating or discoloration.
If you need additional electrical outlets to accommodate all the appliances and electronics, your hired electrician can also do it for you. An electrician can check the electrical load and install new outlets where necessary.
Evaluate Light Fixtures
Proper lighting in a home ensures safety, functionality, and comfort while enhancing the aesthetic appeal and overall ambiance. Let the electrician examine all light fixtures to ensure they're securely mounted and properly wired. 
You may also ask the electrician to replace the bulbs with energy-efficient lighting options, such as LED bulbs. These can help reduce energy consumption and lower utility costs. LED lights have a longer lifespan and consume less energy than traditional incandescent bulbs, making them a cost-effective choice.
Surge Protection Installation
If you're working from home, it's a great addition to have surge protection in your electrical system. In the Philippines, power surges commonly happen due to lightning strikes and utility grid fluctuations.
Computers, laptops, and other appliances like TVs and audio systems are sensitive to voltage spikes and can be damaged in an electrical surge. An electrician can install surge protection to safeguard against such damage. Additionally, you may buy extension cords with built-in surge protection for other appliances.
Electrician Services for Your New Home: Conclusion
Moving to a new home can be stressful, but it'll be worth it when you're settled in safely! So before staying in permanently, be sure to hire a certified electrician to do electrical safety inspections and repairs. By getting the services listed above, you can have peace of mind knowing your new home is safe, comfortable, and efficient.