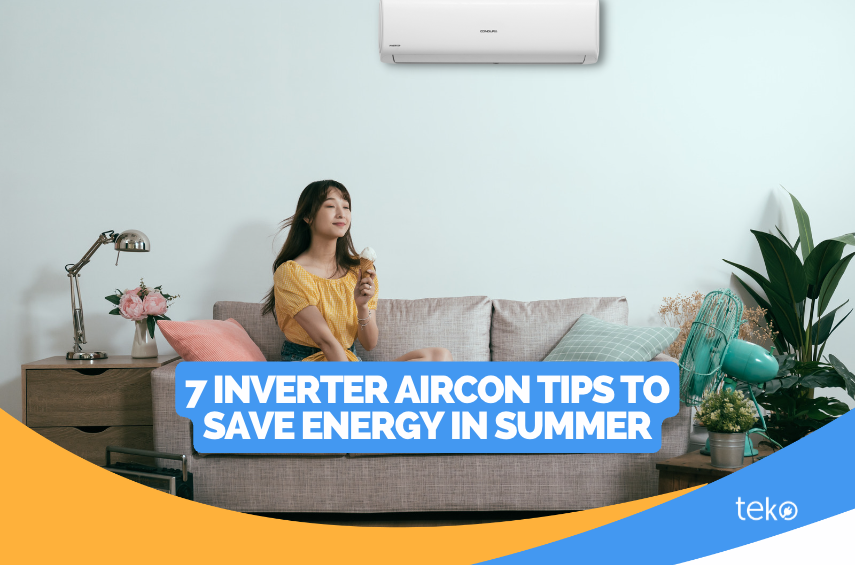 The dry season in the Philippines begins as early as March or April. During this time, a reliable aircon is everyone's best companion throughout the hot and humid days. But is it wise to use it all day, every day? We're Teko.ph, the largest aircon and appliance services provider in the Philippines, here to provide inverter aircon tips to make sure you save energy while staying cool this summer:
1. Clean the filter regularly
When the filter of an inverter aircon becomes clogged with dust and debris, the consistent airflow is disrupted. This requires the machine to work harder, resulting in higher energy costs! This is why we recommend cleaning the filter every one to three months. But remember that this is not enough as you should avail of an aircon cleaning service every 3 to 4 months.
If you're a first-time owner of an inverter aircon or you simply are unsure of the right aircon cleaning routine, you may check our blog on how often to clean aircon in the Philippines.
2. Use the timer function
If you're the type who forgets to turn the inverter aircon off, the timer function will certainly help you save energy. Aside from this, you can also pre-cool the room or maintain consistent temperatures whenever needed.
3. Set the temperature correctly
When it's hot outside, the first thing you may think of doing is setting your inverter aircon to the lowest temperature to cool down a room quickly. However, it may only cost more electricity as the machine must work harder. According to Meralco, you may set the AC at 24 or 25 degrees Celcius for a comfortable and energy-efficient cooling experience.
4. Close the curtains or blinds
Among the inverter aircon tips, this one is the easiest and most efficient tip you could follow. Naturally, direct sunlight can make a room hotter, so you should block it. Always close your curtains or blinds during the day so your AC can maintain a comfortable temperature with less effort. To add more shade and reduce heat, you can even plant a tree outside to block the sunlight or add a tinted film to your window.
5. Ensure proper insulation
To help your inverter aircon from using too much energy, seal the gaps. Inspect the room for spaces where air can pass through. The most common places where you can find these are windows, walls, ceilings, and doors. Make sure to seal them with caulk or sealant. If you have enough budget, add wall and ceiling insulation to make the room cooler.
6. Use an electric fan
Inverter aircons are designed to save energy with a variable speed compressor. The machine automatically adjusts its speed depending on the cooling demand. But when you use an electric fan, cool air can easily circulate and you can raise the thermostat up to four degrees. You also get that windy chill effect with a fan!
7. Set a scheduled maintenance
You wouldn't want your inverter aircon to suddenly stop working during a hot summer day, right? Aside from regular aircon cleaning, ensure your AC is well-maintained to ensure consistent performance. This will help the machine work at a constant temperature without exerting too much effort. For your convenience, you may avail of an annual aircon maintenance plan from Teko.
We all know hot and humid it can get when you live in the Philippines. But there's no need to spend extra money this summer trying to keep yourself cool, especially with an inverter aircon! You can maximize its use while keeping your energy bills low by following these simple inverter aircon tips. Or, if you're thinking of upgrading to an inverter aircon, check out our list of The Best Aircon Brands in the Philippines to guide you.