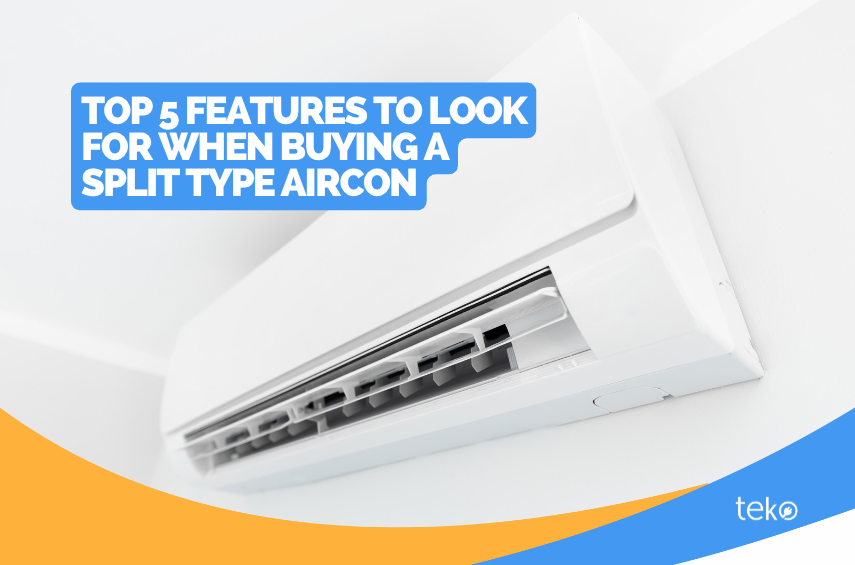 Split type aircon is the preferred option for residential and commercial properties. Not only do they effectively maintain a cool temperature in large spaces, but they also offer great value for money. But are you wondering about the best features to look for in a split type aircon? We're Teko.ph, the largest aircon and appliance services provider in the Philippines, and we've got a list you can check out.
Top Split Type Aircon Features
When choosing among the best aircon brands in the Philippines, it's not enough to choose a machine that fits your budget. First things first—be sure that a split type aircon is really what you need for your room or space. You can seek advice from a technical advisor before buying a unit. Simply book a Site Survey to get specific recommendations for your home.
Once you've determined the right unit depending on factors like room size, number of occupants, and advice from the technical advisor, you're ready for the next step! Here's a list of features to look for in a split type aircon:
1. Inverter technology
Inverter type aircons are not popular for nothing. In simpler terms, its technology automatically adjusts the cooling output depending on the room temperature. This helps you save more on energy costs. Although they can cost more than the traditional window type aircon, you're sure to get both efficiency and longevity, especially when used the right way.
2. High-efficiency rating
The easiest way to identify a power-saving split type aircon is through its label. Remember: The higher the Energy Efficiency Ratio (EER) rating, the more energy-efficient the aircon is.
3. Low noise level
Are you buying a split type aircon to complete your work-from-home setup? Or will it be placed in your bedroom? Split type ACs are perfect for you as they're generally quieter than window type aircon. However, it's best to be sure by inquiring with the salesperson. You may also check its specifications and see if it has a low decibel (dB) rating.
4. Remote control
One of the most overlooked features in a split type aircon is the remote control. Some just use it to turn the machine on and off, and to adjust its temperature. You should maximize the remote control by adjusting other settings like fan speed, timer, and mode whenever needed.
Some split type aircon types from Condura even have a Follow Me function. The remote control helps detect the temperature around it so that the machine can regulate the level of cooling. It even directs the airflow near the remote control!
5. High-quality air filter
All split type aircons come with an aircon filter, but not all are made equal! For the cleanest air you can get, choose a machine with the best filtration possible. Carrier split type aircons come with Ultrafresh filters that purify the air from bacteria and viruses. On the other hand, some Condura split type ACs have a Silver Ion Filter that helps remove dust and airborne bacteria. If you want to know more about these machines, check out ConcepStore today.
By looking for these features when buying a split type air conditioner, you can choose a unit that is appropriate for your needs and energy-efficient. This can help you save money on your electric bill, while providing good indoor air quality and value for your money.