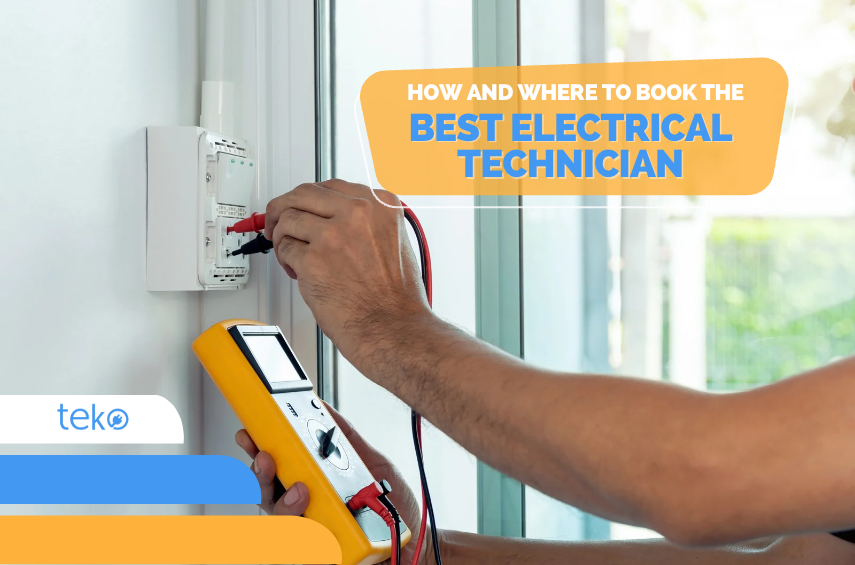 When it comes to electrical issues in your home or business, it's crucial to have a skilled and reliable electrical technician on call. You may want to avoid DIY repairs because it can be dangerous and time-consuming. We're Teko.ph, the largest aircon and appliance services provider in the Philippines, here to help you find the best electrical technician instead with our expert tips.
Electrical problems can be a major inconvenience, and if you're not an electrician yourself, it can be difficult to know where to turn for help. Here are a few tips on how to find the best electrical technician in the Philippines:
Services to Avail From An Electrical Technician
General Electrical Repairs
Got a faulty breaker, malfunctioning outlet, or an appliance socket that does not fit your wall outlet? Electrical technicians are knowledgeable in diagnosing and repairing various electrical issues. They can identify the problem and provide effective solutions safely and efficiently.
Safety Inspections
Electrical technicians can conduct thorough safety inspections of your electrical system to identify hazards or code violations. They can assess the condition of wiring, outlets, switches, and other components, providing recommendations for necessary repairs or upgrades. This service is especially helpful if you're moving into a new home.
Lighting and fixture
Whether you're looking to enhance the aesthetics of your space or improve energy efficiency, electrical technicians can assist with lighting solutions. Be sure to call them if you've got malfunctioning lighting fixtures as well.
It's important to note that the services they offer may vary depending on the technician's qualifications and expertise. When hiring an electrical technician, ensure they are licensed, experienced, and reputable to receive quality electrical services for your needs. 
Booking the Best Electrical Technician in the Philippines
When you experience an electrical issue at home, the first thing you might do is ask for recommendations. Whether from friends, family, or neighbors, it's an easy way to find a reliable technician. But what if they can't give a name or a contact number?
Your next option can be searching online. Look for an electrical technician nearby or type in your location to see specific results. However, it may be difficult to find a trustworthy technician since you don't know their experiences, or you may not see many reviews.
In the Philippines, you may simply go to Teko.ph and book a certified electrical technician online anytime! Teko is a platform that connects homeowners with qualified and experienced electrical technicians. Teko technicians are background-checked and insured, and they also offer services for all types of electrical systems. Additionally, Teko offers competitive rates, so you can be sure you're getting good value for your money.
If you're experiencing an electrical problem, don't hesitate to book an appointment with a Teko technician.