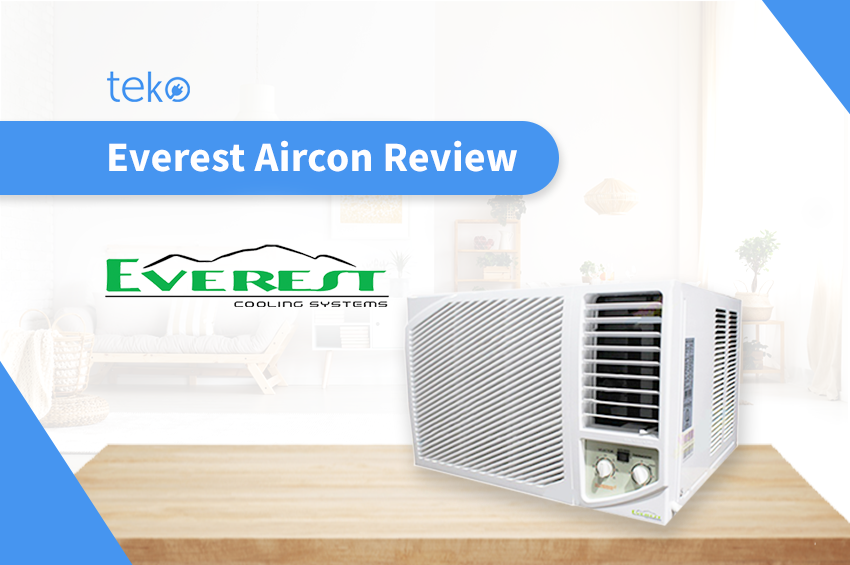 As you might probably be aware, the aircon industry is dominated by major brands, and you know the value you're getting when you buy a Carrier or an Condura. However, new players are springing up with innovative features of their own at very attractive prices. We're Teko.ph, the largest aircon and appliance services provider in the Philippines, and we're here to give you a quick overview of Everest Appliances, one of the emerging aircon brands in the Philippines today.
About Everest Appliances Philippines
This brand is a subsidiary of the renowned Trademaster Corporation, which is also popular for producing Changchong televisions and Greenpower lamps. This company has been around for more than 20 years, so you can rest assured it's a reliable brand.
According to the company, Everest's product design philosophy is based on quality, innovation, and always keeping the customer's needs in mind. Besides air conditioners, their product line consists of refrigerators, televisions, washing machines, air purifiers, and other home appliances and accessories.
Everest Appliances has consistently contributed high-quality products to society's evolution and provided a significant venture in modern technology development since its inception in 2008. The people behind it are committed to continuing to build an institution where people will be inspired to create stylish yet delightful homes by utilizing modern technology with great care.
Everest Aircon Review
We took an in-depth look at Everest's aircon offerings and evaluated them across several categories to give you a more detailed impression of this aircon brand if you happen to be considering it. Below are the highlights of our review.
Decent Selection
Everest's aircon division holds a pretty diverse selection. For residential needs, you can choose between window types, split types, and portable models that are gaining popularity among homeowners. They have both inverter and non-inverter units, and you can choose from various capacities. Furthermore, they have a catalog for commercial ceiling aircon units that are likewise impressive. So, in terms of available options, Everest is recommendable.
Excellent Air Filters
In addition to cooling, an air conditioner should keep out undesired odors, pollutants, and other allergy-inducing impurities. You can enjoy these benefits without the usual 'healthy' premiums from other brands with Everest units. Suppose you have allergies or live near the side of the road. In that case, their array of air conditioners will definitely improve the air quality in your home. If air purification is a big deal for you, this brand will check that box.
Impressive Silent Mode
Air conditioners, especially portable ones, can be pretty noisy. If you're looking for a quiet unit but your location doesn't allow split type air conditioning, their portable units might be the next best thing. These models have an above-average silent mode that allows you to reduce the amount of noise it makes significantly. If you're a light sleeper or don't like the noise that some air conditioners make, this is the option for you.
What People Are Saying About Everest
Everest air conditioning units, as we and many users observed, have a stylish exterior that blends in with any interior design. Their high-quality compressors enable them to cool relatively quickly. Their superior health filters ensure that the air in the room is clean and free of pollutants and allergy-inducing dirt.
With their incredible number of options available, decent features, and comparatively low prices, Everest aircon products are outstanding deals.