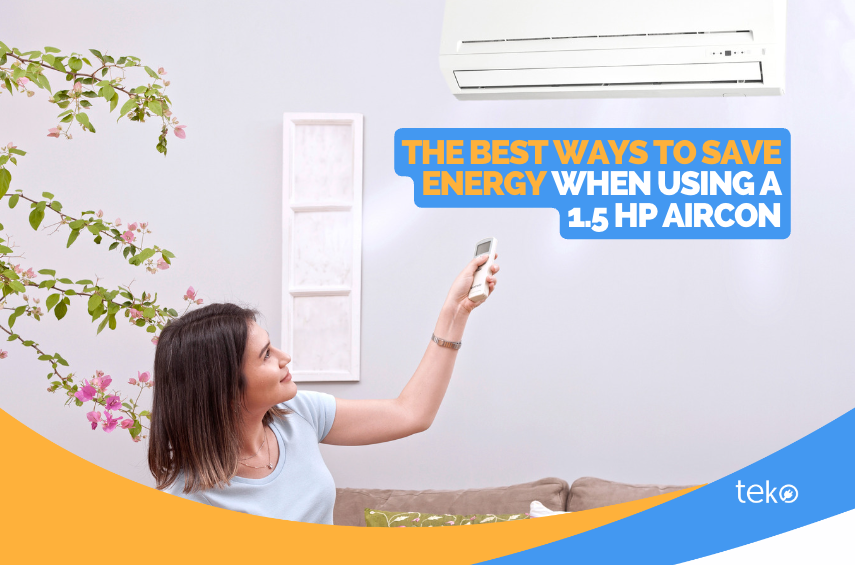 As a tropical country, living through the warm days in the Philippines can be challenging. You'll have to use the aircon all day, but how about your increased electric bill? That is why it is important to find ways to save energy while still enjoying the comfort of an aircon. We're Teko.ph, the largest aircon and appliance services provider in the Philippines, here with some of the best ways to save energy when using a 1.5 HP aircon:
Make sure your 1.5 hp aircon matches your room size
Even before buying an aircon, one of the most important factors to consider when buying an aircon is its size. Matching its horsepower (HP) to the size of your room is important to ensure that your aircon can cool the space efficiently. According to Meralco, the recommended aircon HP that's right for your room size is:
0.5 HP aircon: 6-11 square meter room
0.75 HP aircon: 12-17 square meter room
1 HP aircon: 18-22 square meter room
1.5 HP aircon: 23-27 square meter room
2 HP aircon: 28-40 square meter room
2.5 HP aircon: 41-54 square meter room
Be sure to know the accurate square footage of your room. Measure the length and width of your room, and then multiply these two numbers together to get the square footage.
For your convenience, you can take advantage of Teko's all-inclusive deal in an exclusive partnership with ConcepStore—the official online shop of the nation's best aircon brands, Carrier and Condura! You can get a free aircon site survey, where an aircon technical advisor can evaluate your room to know the right aircon size. This deal also includes a free 1-year extended warranty, free next-day delivery (Metro Manila,) and free next-day standard installation.
It's important to note that other factors can affect the cooling capacity of your air conditioner, such as the number of windows and doors in the room, the level of insulation, and the amount of shade the room receives. These factors may require you to adjust the HP size accordingly.
Clean your 1.5 hp aircon regularly
A clean aircon helps reduce energy consumption and prolongs its lifespan. Ensure the aircon unit, including the outside unit, is free from debris and dust. Also, make sure to clean and replace the air filter regularly. This simple task only takes a few minutes and can help you save a considerable amount on your energy bills. We highly recommend cleaning your aircon filter every one to three months.
On the other hand, aircon cleaning must be done every 3 to 4 months for residential units. Aircon cleaning should be done at least every three months for AC units used in businesses. We advise hiring a certified and trained aircon technician to clean your unit. Especially if you don't have the right knowledge and tools, you might damage the aircon or not clean it properly. You can simply book a professional online and save time.
Use an electric fan
Another way to save energy when using a 1.5 HP aircon is to use fans. This can help circulate the cool air from your air conditioner around the room. This can help you feel cooler and reduce the need to lower the temperature on your air conditioner, saving energy.
You may check our guide to the Best Brands of Coolest Fans in the Philippines if you need help choosing.
Conclusion
Air conditioning is essential, but it can be costly. Fortunately, there are easy ways to reduce your energy consumption when using a 1.5 HP aircon. Saving money does not end with choosing The Best Aircon Brands in the Philippines. By following these energy-saving tips, you can save money and help the environment at the same time. Start implementing them today and feel the difference!