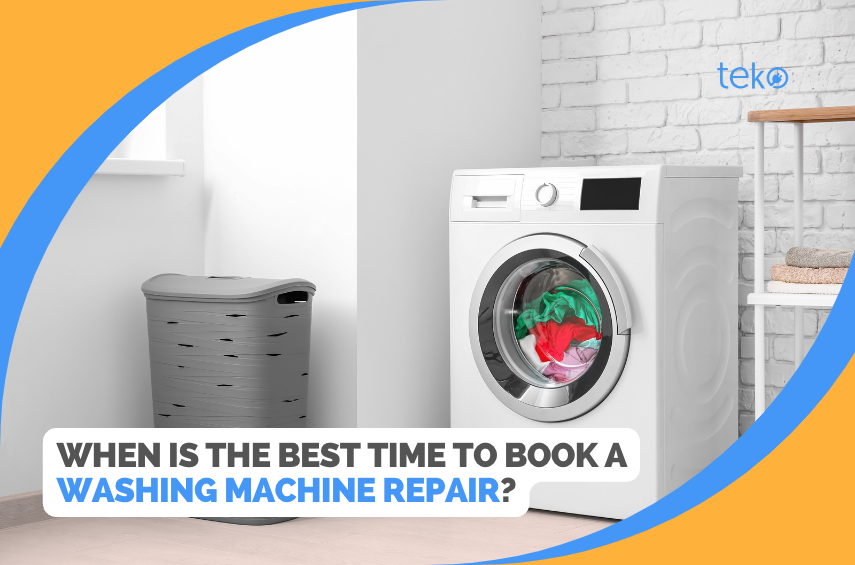 Imagine this: It's finally your day off! But it's also laundry day. When you press the Start button on your automatic washing machine, it suddenly beeps, and you hear rumbling sounds from the inside. Is it wise to call a washing machine repair home service now? We're Teko.ph, the largest aircon and appliance services provider in the Philippines, with our expert advice on when the best time to book a washing machine repair.
Book A Washing Machine Repair ASAP for Urgent Issues
If your washing machine is malfunctioning and causing major disruptions in your daily laundry routine, it's best to book a repair as soon as possible. Don't wait for the problem to cause further damage. Contact a reliable repair service right away to address the issue promptly. Some examples of urgent washing machine issues that may require immediate attention include:
Unresponsive washing machine
Water leakage
Excessive noise or vibrations
Sparks, burning smell, or tripping circuit breaker
Otherwise, we've got some steps and tips you can take to assess and fix the issue temporarily further in this blog.
Consider These Before Booking A Washing Machine Repair Service
Before you schedule a home service washing machine repair, it's crucial to consider a few key factors. After all, you want to ensure your appliance receives the best care possible with minimal hassle and inconvenience. 
First, you need to decide when is the best time to have the repair done. This will depend on your schedule and the availability of the washing machine technician. Book the repair for a time when you will be home so you can be on standby and answer any questions the technician may have.
At the same time, consider booking on the least busy days. Many companies are busiest on weekends or holidays, so it's always best to call during the weekdays when there is likely less demand for service.
Lastly, research local companies that specialize in washing machine repairs. Look for customer reviews, ratings, and testimonials to know the quality of their work. Ensure their washing machine technicians are trained and certified, like those from Teko.ph.
Tips When Booking A Home Service Washing Machine Repair
1. Check all settings
Before calling for help, ensure all settings have been checked and adjusted appropriately if necessary. Select the proper water temperature levels, spin speeds, and cycle types depending on the laundry load you're dealing with (e.g., delicates vs. denim). Taking these precautions could speed up the diagnosis of any issues with your machine when a technician arrives on the scene since they will already know what may have caused it based on initial measurements taken from settings configurations.
2 Take note of error codes
If applicable, note down any error codes that appear on the display after running a cycle. These can help the washing machine technician know more about what might be causing malfunctioning in your appliance.
3. Take pictures or videos
If you notice anything unusual happening with your appliance (e.g., excessive vibration during spin cycles), take pictures/videos before making an appointment. This way, the technicians can know exactly what's going on beforehand. You can help them save time during the process!
4. Check the prices
Inquire about the cost of services before booking. Be sure to know if there are other fees like diagnostic fees, labor charges, and the cost of replacement parts.
Conclusion
By following these tips and considering all factors before booking an appointment for washing machine repairs, you can be more prepared and knowledgeable throughout the process. Remember, every repair situation is unique, and the best time to book a washing machine repair may vary based on your specific needs. Assess the issue's urgency, consider the availability of repair services, and plan accordingly.
If you want to buy a new one, you can check our list of the Best Washing Machine Brands in the Philippines.