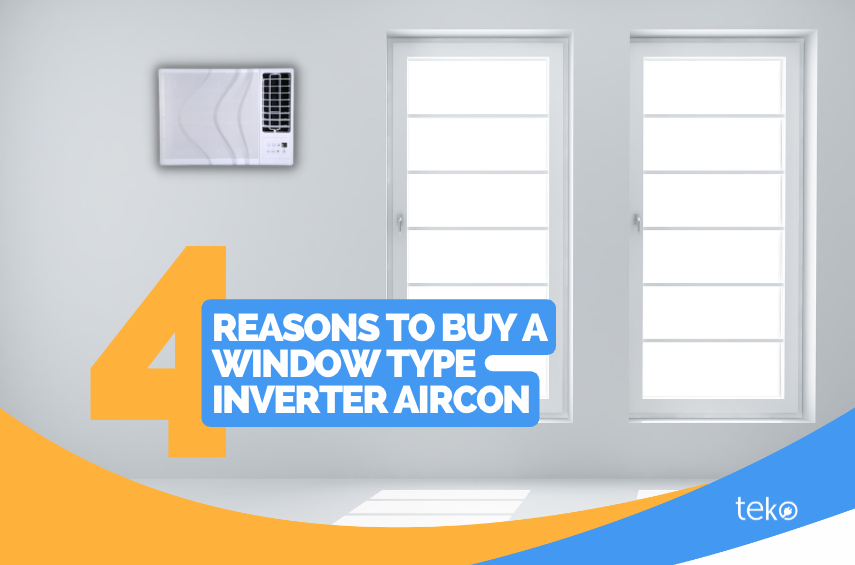 Many Filipino households have at least one air conditioning unit. It is a great investment to keep everyone cool especially during summer in this tropical country. But is a window type inverter aircon worth the buy? We're sure that a lot of non-inverter types will catch your eye when browsing online aircon stores, especially those with all-inclusive aircon package deals like ConcepStore. Teko.ph, the largest aircon and appliance services provider in the Philippines, is here to help you decide! We've listed 4 practical reasons to choose a window type inverter aircon instead:
A window type inverter aircon is space-saving.
If you have limited space in your home or office, a window type inverter aircon is an excellent option. Unlike split type air conditioners, window type aircons are compact and do not require additional indoor or outdoor units. You only need to install them in a window, freeing up valuable space in your room.
It's easy to install.
Installing a window type inverter aircon is relatively simple and straightforward. You can install it yourself if you have some basic DIY skills. But we highly recommend hiring a professional aircon technician for a hassle-free and safer installation. Installation can be done in a day, so you can quickly enjoy the cool experience when you buy one.
A window type inverter aircon is cost-effective.
Who wouldn't want to save money while still staying cool with an aircon? You may opt for a window type inverter aircons as they're relatively affordable and require less maintenance, resulting in lower overall costs. Additionally, their energy efficiency means they consume less electricity, saving you even more money on your monthly electric bill.
When you decide to buy a window type inverter aircon, you can calculate your savings on your electric bill by using our tool here.
It runs on a low noise level.
Window type inverter aircons are generally quieter than other types of air conditioners. Because of its inverter technology, the machine runs at lower speeds, resulting in less noise. This is the best choice if you're planning to put the AC in a bedroom, study room, or work-from-home area.