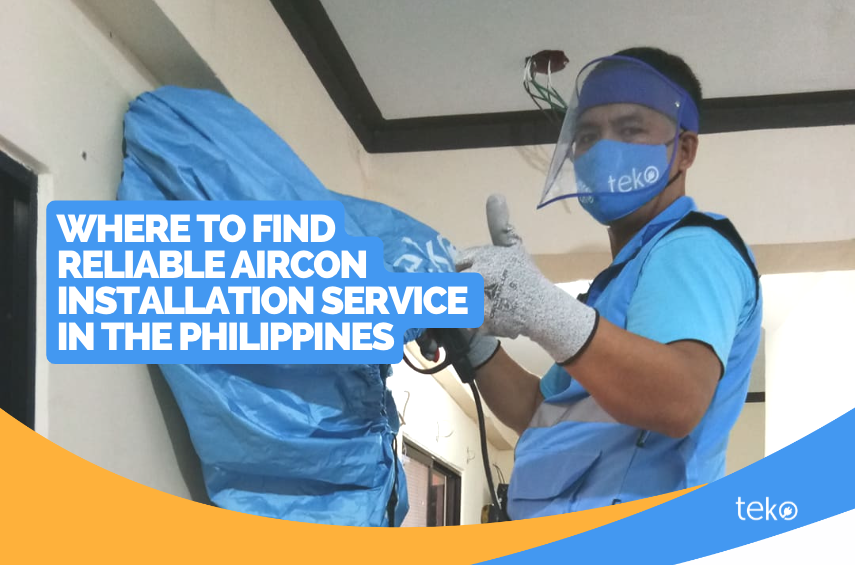 Buying an air conditioning unit is an excellent investment for your home or business. We know shopping can get confusing, especially when choosing among the best aircon brands in the Philippines. But once you're past this step, it's time to find an aircon installation service you can trust! We're Teko.ph, the largest aircon and appliance services provider in the Philippines, here to guide you with tips:
Ask your friends and family.
One of the easiest ways to find a reliable aircon installation service is by asking for referrals. You can ask them about their experience with their air conditioning service provider and if they would recommend them to you. Word-of-mouth and first-hand experience is always a good source of reliable information, especially if they recently had an experience with aircon installation.
Do an online search.
Another easy way is to do a quick search on "reliable aircon installation service in the Philippines." Be sure to read through the details like serviceable areas, services offered, and reviews from previous customers. This is especially important if you're dealing with a company that you've never used before.
Check your aircon purchase's freebies.
Some online appliance shops like ConcepStore offer free installation by Teko. Be sure to check details like this when you buy an AC to get the most out of your big purchase! Not only will you save money with their all-inclusive aircon package deal—you can also assure convenient and professional service by a certified technician.
Aircon Installation Service by Teko
No more wasting your valuable time—just look for Teko.ph for your aircon installation service needs! Teko has a one-stop service platform that allows you to book on-site and on-demand professional electricians. Just book your preferred service and you'll be notified about the confirmation via SMS or email.
When you book with Teko, you're guaranteed to get professional service from elaborately screened technicians. Good aircon installers typically have experience installing aircons in a variety of spaces, and are familiar with energy conservation regulations and proper aircon maintenance. You can expect Teko technicians to be well-versed in this service.
And even if it's your very first time to try hiring an electrical service, you can relax with a property protection guarantee worth up to Php 2 million. Teko also offers aircon repair and aircon cleaning services for all types of aircon. Now, you know where to go months after your aircon installation!