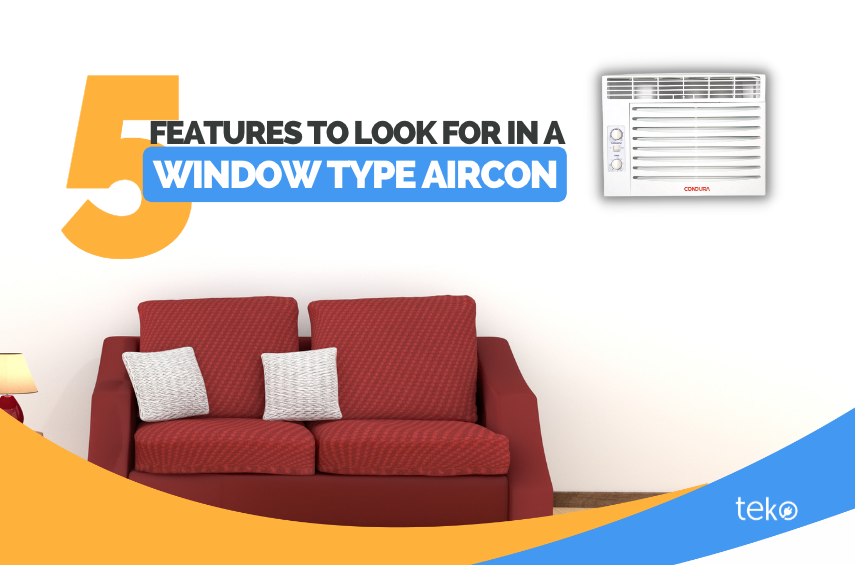 Got a small space that needs cooling? You're on the right page! We're Teko.ph, the largest aircon and appliance services provider in the Philippines, here with a list of features you should consider before buying a window type aircon:
Top Window Type Aircon Features
Not all aircons are made equal. Basically, they can all cool your space, but some will cost you more in your electric bills. Some have remote controls for easier access. There are a lot of aircon types in the market right now, but here are five things you should take note of so you can narrow down your choices.
Energy efficiency
If you really want to save more on your window type aircon purchase, don't look at its price. Instead, look for the yellow label with the AC's energy guide. The number indicates its Energy Efficiency Factor (EEF) or simply its efficiency in terms of electricity consumption. A higher EEF means lower operating costs.
By doing this first, you can save more on your monthly electric bills, instead of choosing a cheaper aircon that's not energy efficient. You can always use our Aircon & Appliance Electricity Consumption Tool to estimate your window type aircon's consumption costs.
Convenience Features
Many window type aircons come with various features such as a remote control, adjustable thermostat, timer, and sleep mode. A remote control allows you to adjust the temperature and fan speed without getting up from your seat. An adjustable thermostat lets you set your desired temperature, while a programmable timer allows you to schedule on or off times. A sleep mode adjusts the temperature and fan speed during the night for a more comfortable sleep.
These convenience features can make your life easier, and save you energy and money in the long run.
Durability and Brand Reputation
A window type aircon is a long-term investment for your home. That's why it's important to choose a unit that is durable and from a reputable brand. Look for aircon units made of high-quality materials that can withstand the tropical climate in the Philippines. We highly recommend the best aircon brands in the Philippines: Carrier, Condura, Midea, and Toshiba.
High-Quality Air Filter
Look for a window type aircon with a good air filter that can trap dust, pet dander, and other particles. Residential AC units come with an air filter that can be removed so you can clean them every one to three months.
Regular cleaning of the air filter will help maintain good indoor air quality. Also, your AC will have to work harder when there is dirt and dust buildup in the filters. By cleaning it, you can avoid getting higher electric bills, or even extra costs for repairs.
Installation and Warranty
When looking for a window type aircon, spending does not end with buying the unit. You'll have to pay a technician to install it for you. When you notice a sign that needs aircon cleaning or aircon repair, you will need to hire an aircon technician to do it for you as well.
Lucky for you, we've got a tip so you can save time and money: Teko partnered exclusively with ConcepStore to offer you the best deal! When you buy a window type aircon via ConcepStore, you'll automatically get an extra year of warranty for parts and labor. This comes on top of the manufacturer's 1-year warranty—that's a total of 2 years of warranty on parts and labor! It's the only store in the Philippines currently offering this deal. You'll even enjoy free delivery and installation within 24 hours (Metro Manila.)