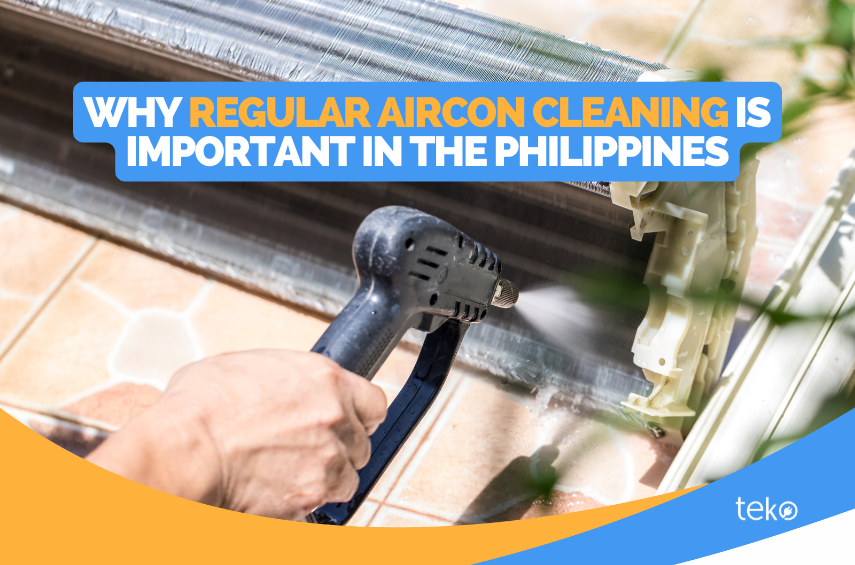 With its tropical climate, the Philippines is known for its hot and humid weather, especially during the dry months.  To cope with this, almost every household has an air conditioning system installed. However, do you just use it every day or do you even know how months to clean an aircon? We're Teko.ph, the largest aircon and appliance services provider in the Philippines, here with important points as to why you need to have regular aircon cleaning.
Aircon Cleaning Helps You Save More
Hiring a professional to clean your aircon does not only mean spending money a couple of times a year. If you are not aware of the benefits you're getting, here's a list of what you save instead:
Lower electric bill savings
Air conditioners work by pulling in warm air from the environment, cooling it, and then circulating it back as cool air. Over time, dust, dirt, and debris accumulate in the aircon filters and coils. These block the airflow and reduce the unit's energy efficiency. Your dirty aircon will now require more energy to cool the air, resulting in higher electricity bills. Regular aircon cleaning, including cleaning the filters, can help maintain the unit's energy efficiency. Then, you can save more on your electricity bills in the long run!
Less repair or replacement costs
Like other appliances at home, there might come a time that your AC will show signs of malfunction. That's one way to determine how often should aircon be cleaned, since it may depend on usage, outside temperature, and more.
Instead of ignoring them, you may book an aircon cleaning service. This can help fix a lot of signs that may potentially damage your aircon like leaks, warmer air, and foul smell. As the saying goes, "Prevention is better than cure." Your wallet will thank you when you make a move immediately, rather than wait for your AC to need repair or replacement.
No unexpected expenses
Air conditioners are a significant investment, and it's essential to protect that investment by ensuring that it lasts long. With regular aircon cleaning, you can avoid wear and tear on its parts. Sooner or later, it might break down and not even the best technicians can fix it. You'll have to buy a new unit, which may not be part of your budget.
Also, the warm and humid weather in the Philippines makes it easy for mold and mildew to grow inside your aircon. If Improper cleaning can lead to moisture buildup in the coils and other parts of the unit. That's the perfect breeding ground for mold and mildew! This poses a health risk to everyone in the room breathing air from the aircon.
When and Where to Book an Aircon Cleaning Service
Your aircon still does the job of cooling your room. But that does not mean you can leave it uncleaned for months or even years! If you're still unaware about how many months to clean aircon or how often should aircon be cleaned, here are our tips: We recommend hiring a professional aircon technician to clean your aircon every 3 to 4 months for residential units. Aircon cleaning for those used in businesses should be done at least every 3 months.
While you can easily remove and clean the aircon filter, you should call a certified technician to do the aircon cleaning to avoid damaging the unit. And to save you from the hassle of finding a reliable aircon technician, just book with Teko!
Teko technicians offer professional and brand-certified air conditioning services for all types and brands. They provide affordable rates and flexible payment options such as GCash or cash after servicing. With a property protection guarantee of up to Php 2 million, customers can rest assured that their property is secure. The technicians can also give advice on how often should aircon be cleaned based on factors like type, location, and condition.