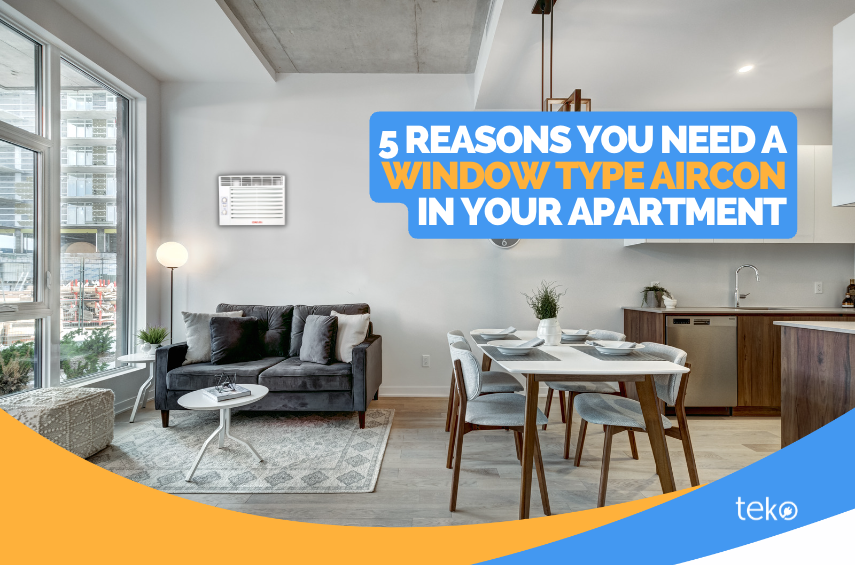 Living in an apartment is a whole new experience, compared to living in a house. It can be challenging, especially if there are limits to how you can design your space to make it more comfortable. But if you can't decide whether to get one or not, this is the sign! We're Teko.ph, the largest aircon and appliance services provider in the Philippines, here with five reasons to have a window type aircon in your apartment.
It's space-saving.
If you're living in a small apartment, a window type aircon can easily fit a standard size window. Compared to using an electric fan, you'll need to find a strategic corner so it can blow air to your direction.
Since a window type aircon is mounted, it won't eat up your floor space! It can circulate cool air easily, especially if it has adjustable louvers (grills) and swing feature. This type of AC is also ideal for those who prefer minimalist designs and like to save space.
A window type aircon is easy to install.
Compared to a split type aircon, the window type of aircon comes as a single unit. It won't need complicated ducts or indoor units, making it easy and simple to install.
Make sure to hire a certified technician to install it properly. They should be able to insulate gaps around the unit. They could also ensure that it's level to avoid water leaks.
It can improve the air quality in your space.
A window type aircon will not only cool your apartment. Its filter can trap dust, dirt, and other airborne particles to make the air in your apartment cleaner and healthier to breathe. This can help avoid trigger allergies, asthma, and other respiratory problems.
It can make everyday living more comfortable.
Some apartments have small windows, while some may not have one at all. Having a window type aircon can consistently cool your space, creating a comfortable living environment regardless of the weather conditions outside.
If your unit doesn't have a balcony or space outside where you can walk around, you can stay indoors instead! You can continue doing your household chores or work remotely while still staying comfy and cool.
A window type aircon is budget-friendly.
Up front, a window type aircon is definitely more affordable than split type aircons. Assuming that you only need to cool one room, you can adjust its temperature and save more on your electric bills, too.
To help you save more, you can just buy in ConcepStore! It's the official online store of the best aircon brands in the Philippines: Carrier, Condura, Midea, and Toshiba. Aside from getting a genuine aircon from the manufacturer, you can also enjoy free 1-year extended warranty, free installation, and free delivery. This means extra savings and convenience, instead of going out to buy in a physical appliance store.