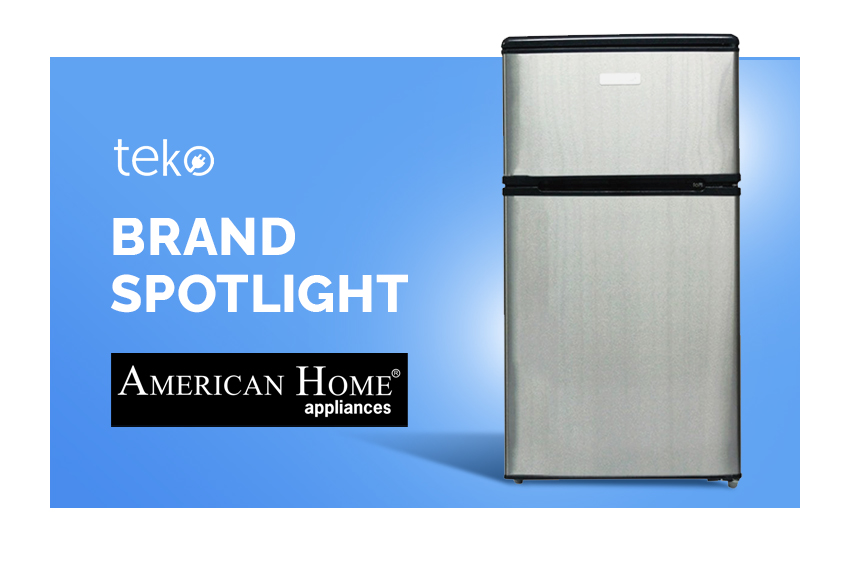 In the Philippines, American Home is best known for its kitchen appliances. But if you aren't aware of their wide range of products, we're here to let you know more about them. We're Teko.ph, the largest aircon and appliance services provider in the Philippines, with our quick overview of American Home.
American Home has been in the industry of manufacturing home appliances since 2010 with headquarters in the USA. Through time, this company has catered to all types of appliances like air conditioners, washing machines, televisions, and refrigerators. American Home has reportedly studied the market and saw great opportunity in manufacturing appliances that are of decent quality at a price point that is within reach for most people.
To date, the company has been in the appliance industry for over 20 years and they continue to be passionate about capturing a wider market share and expanding its line-up of products. We see them manufacturing any appliance you can think of, from electric kettles to oven toasters.
American Home Aircon
This company is perhaps best known for its affordable aircon units, which are, for their price, packed with a decent number of features.
It's easy to understand why an American Home window air conditioner is a wonderful cooling choice for smaller families, similar to Carrier and Condura. Their aircon systems are small enough to fit into most homes without requiring any further changes. These versions are relatively hefty, but they may be readily lifted and installed without an installation crew with a bit of assistance. These models are available in the standard 0.5HP variant as well as the slightly more powerful 0.6HP version.
Most of their systems also include an Auto Defrost and Self Evaporative System, so you won't have to worry about condensation or water leaking from your air conditioning system onto your floors. If you're concerned about the filter, they provide an Easy Pull-out Filter that makes cleaning and reinstalling chores a breeze.
If you're looking for more aircon options, here's our list of Best Aircon Brands in the Philippines to guide you.
American Home Refrigerators
The single-door American Home Refrigerator is a popular choice for small families in the country. Then, of course, there are the double-door ones.
Some of their units also boast some noteworthy features. The door-lock function, for example, assists you in locking the door and preventing your child from repeatedly opening it. The alarm system will inform you if the refrigerator is open or if your child is playing with it by opening and closing it often.
Like their aircon units, American Home refrigerators boast a great value-for-money proposition. Below are some of their well-known models in the country at the moment. 
Why Buy American Home?
They have 20 years of manufacturing experience.
Their aircon and refrigerator lines are blessed with plenty of innovative features.
The price tag on American Home appliances is leaps and bounds smaller than that of others in the industry.
American Home Service Centers
Abyr Israel Enterprises
No.2 c-1 Minerva Building, Muntinlupa Building
Advance Care Electronics Service Center
87 Lot 46 Westplains Subd. Trece Marites, Cavite
Chef's Magic Trade Center
1st Floor CYA Building, 34 Morato Street, Quezon City
Cooltech Airconditioning Services
Blk.25 Lot 42 P-3 Bonifacio Ave., Upper Bicutan, Taguig
K42 Engineering Services
29 Kapitan Ato Street, Sta. Cruz, Pasig
TechnoSmart Service Center
670- A Tandang Sora Avenue, Quezon City
12 RPL Airconditioning Services
Blk9 Lot10 Bria Home Friza Cariza 1 Teresa, Rizal
A.Recebido Electronics
Magsaysay Street, Cogon Bibingcahan Sur, Sorsogon City
Basallote's Airconditioning Service Center
Virac, Catanduanes
Basallote's Airconditioning Service Center
Ziga Avenue, Tabaco City, Albay
Bentek Electronic Repair Shop
90 z II Baras, Canaman, Camarines Sur
Aldea Electronics Ref and Aircon
Fenete Street District 3, Sibalan, Antique
Bio Plus Repair Center
C. Padilla Street, Mambaling, Cebu City
E-cool Philippine Service Corp.
Warehouse 67, Madawe North Central, Cabancalan, Mandaue City
E-cool Philippine Service Corp.
1314 Sangi Road, National Highway, Calajo-an Minganilla, Cebu
E-rac Appliance Services
Pamintao, Cogom, Bogo, Cebu City
HD Appliance Care
1027 South Road, Basak, San Nicolas, Cebu City
Accufix Service Center
Door 4 Lourdes Llido Building, J Catilico Avenue, Lagao, General Santos City
DL Refrigeration and Air Conditioning
Lot 4 Blk 11, Sto. Nino Village, Zamboanga City
A and E Appliance Service and Supply
T. Calo Extension, Butuan City, Agusan Del Norte
Flerucs Appliance Service Center
Sabayle Street, Port Area, Poblacion, Iligan City