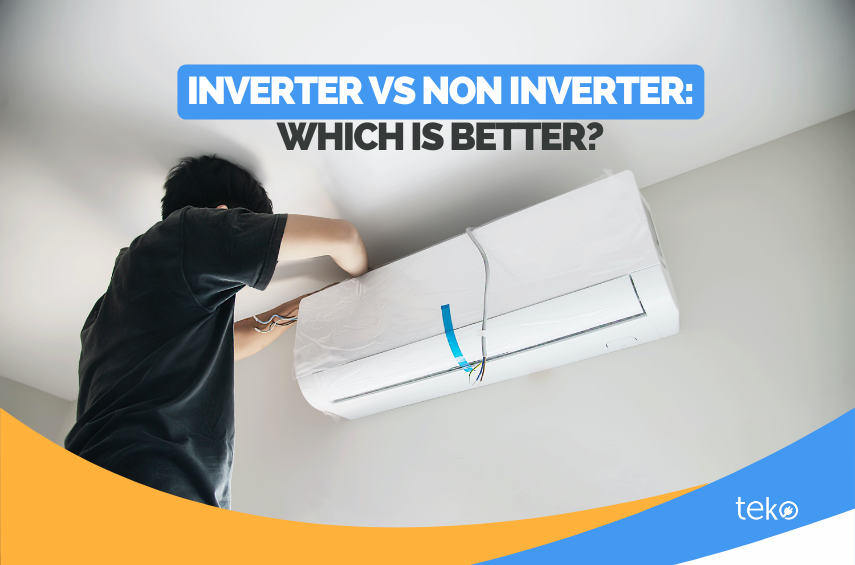 There are many factors that you need to consider when buying an aircon for your home or business. You may prioritize the size or price first, or you can just choose among the best aircon brands in the Philippines. But if you really want one that's energy efficient, we're letting you in on some not-so-secret information. We're Teko.ph, the largest aircon and appliance services provider in the Philippines, with helpful details on the differences between inverter vs non-inverter aircon.
Inverter vs Non-Inverter Aircon: Compressor Technology
As a first-time aircon buyer or owner, you may not be into the technology aspect of an aircon. But as an essential factor in an aircon's performance and efficiency, here's how you can understand it better:
Inverter air conditioners use a variable-speed compressor that can adjust its output to maintain the desired temperature. On the other hand, non-inverter air conditioners have a fixed-speed compressor that turns on and off to maintain the temperature.
Inverter vs Non-Inverter Aircon: Efficiency
Inverter air conditioners are generally considered better than non-inverter air conditioners in terms of energy efficiency—they're basically designed to be one! It uses less energy because the variable speed compressor can adjust the cooling output according to the temperature.
According to the Department of Energy, you can even save up to 20%-40% on energy consumption or Php 400-P800 per month when you use an inverter aircon.
Non-inverter air conditioners are generally less energy-efficient than inverter models because its compressor starts and stops frequently. A non-inverter may struggle to maintain a consistent temperature, resulting in fluctuations and wasted energy.
Inverter vs Non-Inverter: Noise Level
Inverter air conditioners are quieter than non-inverter models because the variable speed compressor operates at a lower speed, reducing the amount of noise it produces.
A non-inverter aircon's compressor continuously runs at a constant speed, so you can expect to hear its noise a lot. Meanwhile, an inverter air conditioner's compressor adjusts its speed, that's why the generated noise is reduced.
However, some factors also affect an AC's noise, including the type of fan used, the quality of installation, and the location of the unit. If you're planning to install an aircon in your bedroom, study room, or near your work setup, be sure to consider its noise level.
Inverter vs Non-Inverter Aircon: Price
Talking about price points between inverter vs non-inverter aircon, you've got two options. If your budget for buying an AC is smaller, you may opt for non-inverters as they're generally less expensive.
On the other hand, inverter air conditioners are generally more expensive to purchase. But you can save more as you use it since it's an energy-saving machine.
You may check out online aircon deals to have a better idea! Teko has partnered with ConcepStore, the official online shop of the Philippines' best aircon brands, Carrier and Condura. Aside from buying manufacturer-direct, you may even avail of the best all-inclusive aircon package deal—free delivery and installation within 24 hours (Metro Manila) and free cleaning service within the first year!
Want to know more about air conditioners before buying one? Read our Ultimate Guide to Air Conditioners now!