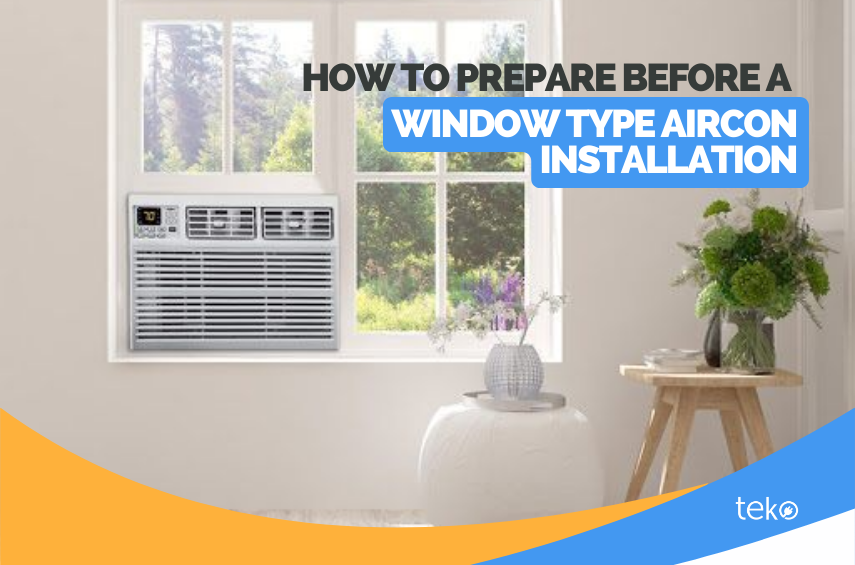 Congratulations on your new aircon purchase! You've come to the right page, assuming you're now planning on the next step. We're Teko.ph, the largest aircon and appliance services provider in the Philippines, here to provide you with helpful tips and information to prepare for your window type aircon installation.
Choose a reputable aircon service provider.
Is it your first time to have an aircon installed in your home or business space? If you don't know how to install a window type aircon, the easiest and safest way to start is by finding a reliable aircon installation service provider. You can search online or ask for recommendations from friends or family members—or just book instantly online with Teko!
Teko is a platform where you can conveniently book certified and experienced aircon and appliance technicians. But don't get intimidated—this high-quality experience comes with affordable rates that you can check first before booking! Not only will you have a proper installation of your window type aircon, you can also save more time and money when you hire a professional electrician.
Choose the location.
If you haven't decided yet on the location of the aircon, choose one that's near an electrical outlet. If possible, choose a side of the room that does not receive direct sunlight. Also, make sure that it is within reach, especially if the unit does not come with a remote control. Ensure that you can easily access the machine for maintenance and cleaning purposes.
Clean the area.
Clear the space where the window type aircon will be installed. Remove any objects, furniture, or curtains that may get in the way during the installation process. Make sure that the aircon technician can move around for an easier installation.
Confirm the date and time of window type aircon installation.
A few days before your scheduled window type aircon installation date, confirm the details with the company or technician. When you book with Teko, you won't have to do this! You will receive an SMS and email confirmation of your installation service once booked. The aircon technician will even send a photo update if they're on the way to you!
Be available.
Be present during the installation process to answer any questions that the technician may have. At the same time, provide clear instructions, if you have any. It will be difficult to make changes once the aircon is installed, so ask the technician while they're still there! You may also check our Ultimate Guide to Air Conditioners so you can be familiar with the machine and how to effectively use it.
Preparing for a window type aircon installation is an important yet often overlooked step. Before the technician arrives, take time to ensure everything is in order. Especially if you live in apartments or condominiums, double-check with your property management company if you can install window type aircons—it pays to be informed!
For a more hassle-free experience, you can shop for a window type aircon online via ConcepStore and just book an window type aircon installation from Teko. All your transactions are online—fast, easy, and safe!