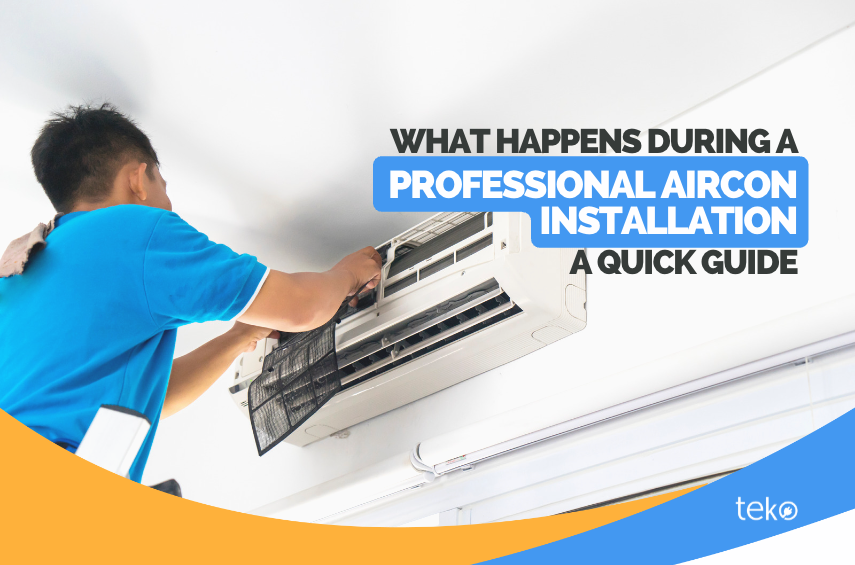 Did you recently buy an air conditioner for your home or business? Congratulations, you're on your way to staying cool for the years to come! But before you can sit back and chill, a professional aircon installation is needed.
We're Teko.ph, the largest aircon and appliance services provider in the Philippines, and we highly recommend hiring a certified and experienced aircon technician to install it correctly. On the day of your aircon installation, here's what you can expect to happen:
Preparation
Before the technician arrives on the day of your scheduled aircon installation, clean the area first. Move the furniture, appliances, or home decor away from the wall or space where the aircon will be installed.
Site inspection and assessment
Assuming that you've asked for expert advice about the aircon you recently bought, the technician would still have to inspect your space again. During the inspection, the technician will also assess the electrical and structural requirements for the installation.
Aircon installation
The technician will proceed to check each component. This is why it is important to hire an electrician instead of doing the installation on your own. They have enough knowledge and experience to ensure that everything will work properly and safely once turned on.
Once the installation area is cleared, the technician will proceed to install the aircon unit. The technician will also connect the refrigerant lines and electrical wiring.
Testing
After the installation process is complete, the technician will test the aircon unit to ensure it is operating correctly. The technician will also set up the thermostat, check the airflow, and test the cooling capacity.
Maintenance and after-sales support
Once everything has been installed properly and tested, the technician may provide any additional advice or information that may help prolong the life of your aircon unit. This may include maintenance tips or reminders about proper usage. The technician may also offer after-sales support, including regular maintenance and servicing to ensure the aircon unit operates efficiently.
Aircon installation can be done in a day—easy, right? However simple it may sound, the process involves several steps that only a professional can do efficiently in the least time possible. With proper installation and maintenance, your aircon unit will provide you with cool and comfortable air for years.
If you're still on the hunt for the AC for your space, you may check ConcepStore today! It is an online shop that carries the best aircon brands in the Philippines. Aside from flexible payment options and genuine aircons supplied directly by the manufacturer, you even get a free site survey, next-day delivery, and installation by a Teko technician for your split type aircon purchase.