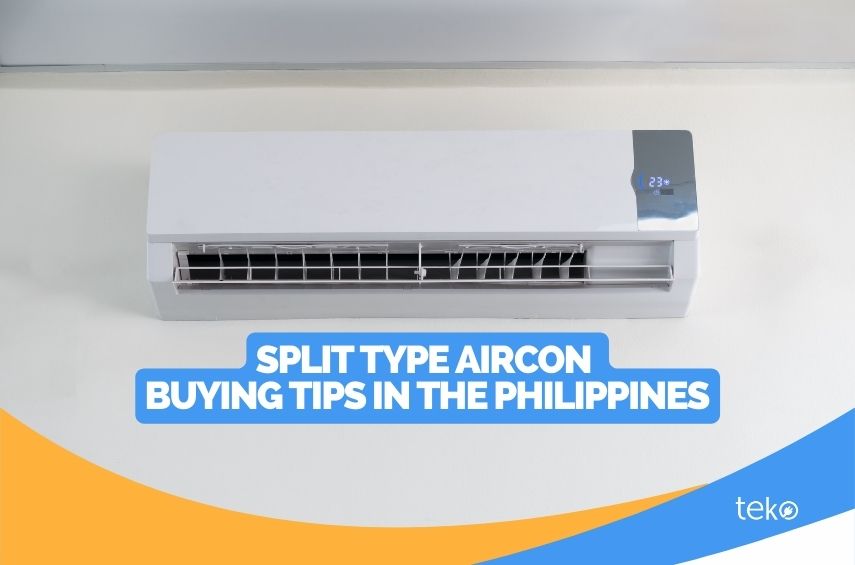 If you're looking for split type aircon buying tips, first off, congratulations! You're on the right path because we know how overwhelming it is to buy an AC with all the brands available today. As the largest aircon and appliance services provider, we in Teko.ph, are here to guide you. We can't just let you choose the most popular brand or the one you've only heard of!
Why Buy A Split Type Aircon?
So, you've heard that a split type is better, especially for medium-sized areas. They're incredibly convenient to install. But that is not enough information! If you have no idea yet or you're looking for more impressions on this AC unit, here are its benefits that you can consider:
1. Split type aircons are more flexible in terms of installation. You may place the outdoor and indoor components several meters apart. This makes them ideal for homes or businesses with limited or no external wall space. You only need a small hole to run the piping between the two units of the wall-mounted split type aircon.
2. These types of aircons are incredibly efficient and cost-effective, consuming far less energy than traditional window units that cool one room at a time. With a split type AC, it is possible to cool multiple rooms simultaneously, making them an economical choice for larger spaces.
3. Split type aircons are also quieter than the window type. You may place the motor and other noisy components away from living areas. You don't have to worry about loud noises disrupting your sleep or daily activities while you're trying to stay cool.
4. They come with additional features like adjustable fan speeds and timer settings, which allow greater control over comfort levels throughout the day while helping reduce energy consumption. You can enjoy even more savings through carefully timed usage settings that turn off when not required—great news if you're looking to lower your electric bills without compromising too much on comfort!
5. Nowadays, many models come with a built-in air purification system using advanced filters designed to remove dust particles, pollen, and other airborne pollutants from inside your home or office environment. This is an ideal choice if you suffer from allergies or asthma.
Tips In Buying A Split Type Aircon
Let's narrow down your split type aircon choices! If you've decided on buying this over a window type, don't just choose based on your budget. You might end up paying high electric bills just because you bought an affordable unit that's not energy-efficient. Here are important steps to do first:
Tip #1: Get expert advice.
If it's your first time upgrading or buying a split type, you'll need someone to check if it really suits your space. It's worth investing in a Site Survey service by an aircon technical advisor to properly evaluate the needs of your site. With this service, you can easily know the right aircon size for your room and all the materials needed, rather than doing it yourself and ending up spending more.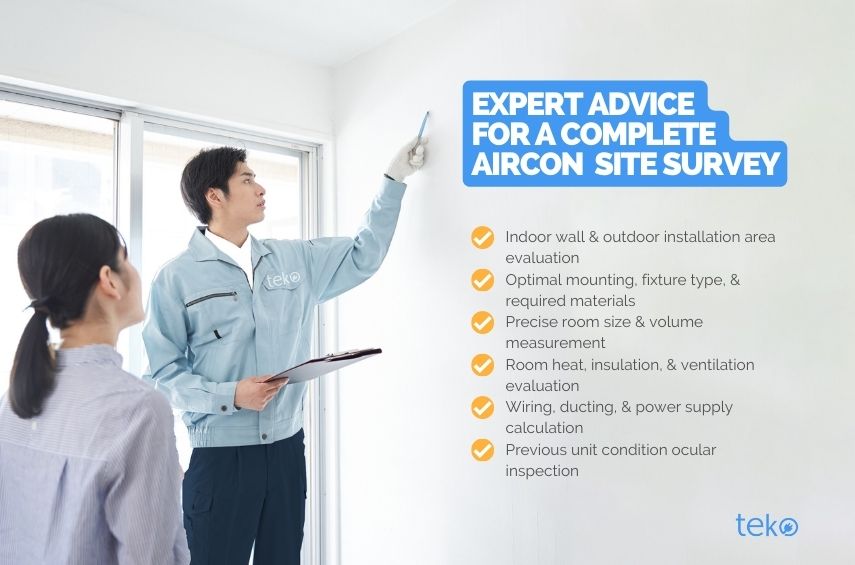 Tip #2: Measure your room.
We don't recommend doing it on your own, but if you've decided to do it, the first step must be measuring the room where the aircon will be placed. You have to take note that split type ACs are best for medium-sized rooms. An aircon that's too powerful will cause overcooling and higher electricity costs. The unit will frequently switch on and off to keep up with the desired temperature.
To make sure you are comfortable without spending a lot on energy bills, invest in the right split type aircon size. As a rule of thumb, you can get a 0.5 HP split type aircon for a room that's 10.5 square meters, or 1 HP for 15-21 sqm. Ultimately, it's best to get expert advice for the right split type aircon recommendations.
Tip #3: Take note of sunlight exposure and room occupants.
Even if you get the right aircon size, it won't work efficiently if too much sunlight enters the room. If there are large and untinted windows, more heat surely gets inside compared to rooms with smaller windows. Also, determine how many people would be using the room since too much body heat affect the room temperature. Take note of these details and be sure to get an AC with a higher HP for better energy consumption.
Tip #4: Invest in an inverter type aircon.
We highly recommend opting for an inverter type aircon instead of a non-inverter aircon, if possible! Unlike traditional aircons, inverter types have a variable speed compressor. This means, it can adjust the cooling power according to the temperature of a room. This means that it is able to maintain desired temperatures with minimal effort while consuming less electricity than other types of aircon units. As a result, they provide more consistent temperatures and allow you to save money on energy costs over time.
Once you've decided on getting an inverter type aircon, you can use our Aircon & Appliance Electricity Consumption Calculator to check your AC's energy costs. Plus, see expert tips on saving more with your other appliances.
Tip #5: Consider top aircon brands.
Instead of setting a specific amount first, why not prioritize choosing between The Best Aircon Brands in the Philippines? Once you've determined the most suitable aircon type for your room, you can now filter your choices depending on the brand. 
Carrier is the top aircon brand that offers a wide range of aircon units in the Philippines. All Carrier ACs are powered by US technology and tailored to our country's weather conditions. Parts are readily available if you need replacement. You may request this from their outstanding after-sales support.
Condura, which is Carrier's sister brand, offers equally energy-efficient and durable aircon units. You can expect the same US-quality aircon units from Condura, that are affordable and widely available in the country.
Another brand we can recommend is Midea, a reliable Chinese appliance company. However, you should take note that it is not locally manufactured, so parts replacement may not be readily available in case you may need them.
You can also add Toshiba to your list of top aircon brands, with its line of Japan-quality home solutions. In the Philippines, Toshiba currently offers split type aircon and commercial aircon units.
Tip #6: Buy from reliable retailers.
The COVID-19 pandemic has changed the way we shop for our everyday needs. Now, it is easier and more convenient to buy online with most of our trusted brands already doing digital. When it comes to split type aircons, it's always best to get your preferred AC directly from the manufacturer. Good news is, you can do it conveniently with ConcepStore!
ConcepStore is the official online store of the top aircon brands in the Philippines, Carrier and Condura. Aside from buying genuine aircon directly from the manufacturer, at the same prices as in appliance stores, you receive your order the next day with installation. With their top-quality after-sales support, you can easily book a service online for your units still under warranty.
Tip #7: Ask about the installation, parts availability, and after-sales support.
As mentioned, split types are more complicated to install as it comes with two units. Be sure to check if the manufacturer where you're buying from offers discounts on installation. If not, you may simply book a certified Teko technician to install any split type aircon.
Don't forget to consider the availability of parts! There might come a time that you'll need a part replacement, so it's wise to choose a brand that's locally manufactured, like Carrier and Condura. Along with Midea and Toshiba, you can go with these aircon brands as they offer hassle-free after-sales support if the AC unit is still under warranty. All you need to do is book a service online and your request will be routed directly to the manufacturer.
Tips After Buying a Split Type Aircon
So, you've finally bought a split type AC! But owning one does not end there. Check out these tips to help your unit last longer:
Tip #1: Ensure proper maintenance.
One of the most effective ways to make your split type aircon last is by taking care of it. Make sure to schedule annual maintenance from any authorized service center. You can even get a customized aircon maintenance plan so you won't have to worry about schedules every year.
Tip #2: Avoid DIY repair.
As much as possible, do not attempt to fix an issue with your AC, especially if you have zero knowledge of repairing it. It's always best to contact a certified technician to let them handle the professional work.
It is certainly intimidating to choose the best split type aircon because of the many options available in the market. But before buying a split type aircon, it would greatly help to do some research. You can also read online reviews from consumers who have bought or are currently using your selected models. And to make sure you're getting the most out of this big purchase, consult with a professional first. Get a free on-site visit from a Teko Technical Advisor so you can discuss your needs and concerns!