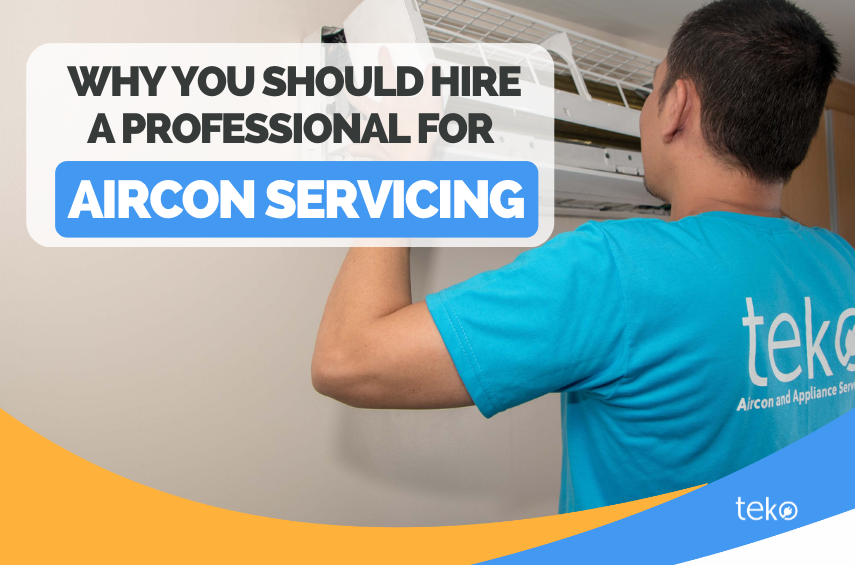 DIY repair should be the last thing you'll do when your aircon malfunctions. Especially if you're a first-time aircon owner, it may seem easy to fix it but it's risky. We're Teko.ph, the largest aircon and appliance services provider in the Philippines, here to convince you to hire a professional for aircon servicing.
Save Time and Money with a Professional Technician
You may think it's costly to book a professional to check your aircon. But in reality, you're just one mistake away from buying a new aircon when you DIY! Instead of damaging the aircon more, let a professional inspect your AC at home. They can quickly figure out what the issue is, how much it will cost to fix it, and how long it will take. This way, you won't waste time and money trying to learn how to do repairs or buying parts you don't need.
Regular aircon maintenance by an aircon technician can also improve the efficiency of your aircon. This can help lower your electric bills.
Safety and Expertise Guaranteed
Aircon technicians have the knowledge to identify and solve issues with your aircon. They have all the tools and equipment to do thorough inspections. We know it's that easy to do a search on the Internet, but the situation may vary. So it's always best to seek a professional's expertise.
A technician can also provide expert advice on maintaining your aircon. They can also help identify potential issues before they become big problems. That way, you can avoid unexpected breakdowns or costly repairs in the future.
In addition, aircons contain chemicals like refrigerant. This can be risky if not handled correctly. Aircon technicians are trained and equipped to safely work with these chemicals.
Where to Book a Professional for Aircon Servicing
As soon as you see signs that your aircon needs cleaning or repair, it's time to call your trusted professional. In case you don't know anyone who can do aircon servicing, ask your friends or family for recommendations. You can find more helpful tips for finding aircon installation services in our blog here.
The best option is by booking a Teko technician online! In three easy steps, you can easily avail of a home aircon service on your preferred date. Teko technicians can service all major aircon brands, too! You won't have to worry about finding a specific technician for your AC.